First, I'll say that I have been neglecting this website for a while, so I promise for 2007 to have more updates. Second, in order to have more updates that means I'll need to brew more than in 2006. So my modest goal for this year is to finish upgrading my equipment (for now) and to brew at least once a month for the year. Third, to fill-in-the-gaps between brews I may start posting other random things; beer reviews, happenings, and other ideas, so hopefully all will enjoy.
On Sunday January 14th I brewed the first beer for 2007, *plus* it was the first beer at Calhoun, *plus* it was a beer brewed with all homegrown hops. This beer is an English Mild-esque beer. The reason I say it like that is that it is brewed bigger than an English Mild, with all American hops grown exclusively in Delaware, and uses a strain of yeast from Canada.
This beer used some new malts for me, specifically Pale Chocolate Malt and Flaked Barley. Pale Chocolate Malt is half as dark as regular chocolate malt, but should still add all that lovely color and vanilla and caramel notes, only more discreetly. Flaked Barley is an unmalted barley which should add a graininess (in a good way) to the beer plus help with head retention. There was a total of five different malts in this beer, hopefully all will add to the end result.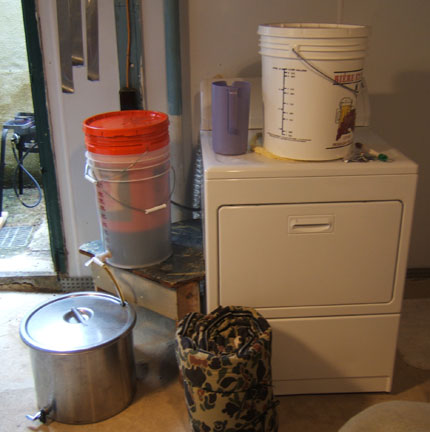 Also, as mentioned before, I used all Delaware grown homegrown hops in this beer. For bittering I used Nugget hops grown by my friend Garrett and for flavor and aroma I used Cascade hops grown by myself. Nugget hops are generally a good bittering hop with high alpha acid, but since these are homegrown there is no true way to test there alpha acid level, so it is used with an educated shot in the dark. Cascade are know widely for there grapefruit citrusy aroma and flavor, this is the signature hop for almost all west coast Pale Ales. Also since these are homegrown their pungent smell will most likely be lacking, but other variants may stand out more.
The brew day itself was mostly uneventful but still interesting. This was the first beer brewed at Calhoun, so I had to get used to where to situate all of my equipment. Also, most of my stuff still hadn't even been fully unpacked yet, so that made everything more fun. I figured out a pretty good scenario for a set up was to work out of my basement through the door leading to out back. In this way my kettle, hot liquid and gas are all outside with plenty of ventilation, and myself and the remaining equipment are nearby and undercover inside without having to go up any stairs. Craig came over about half way through the brew day and we enjoyed a few good beers, Trader Joe's Dark Belgian Ale, DFH Zwaanend'ale and DFH Chateau Jiahu.
In combination of beers clouding my thought process, being overly optimistic and forgetting to do anything about it – I wound up running into a stuck run-off after my wort had cooled. This is a bad time to have issues for the wort is at a very delicate stage very susceptible to picking up an infection during this period. The obvious reason for the problem was being unprepared for using whole leaf hops (5.5oz for that matter too), and having them clog the exit spigot on the kettle. The solution I came up with on the fly, dump the whole kettle full of wort into the mash-tun which has a false bottom and basically strain the sweet liquid from the hop material. Yes I took the time to sanitize everything. I poured from kettle to mash-tun, then ran-off from the mash-tun to the carboy. From what I can tell it worked like a charm! Recovered just over five gallons at approximately 1.044 OG. "Approximately", why do I say that? Well, 'Kid Genius' over here forgot to take an original gravity reading, so that number is a guess based on the gravity reading of the wort prior to boil.
What's next? I'm open for suggestions.