Today I entered the first local homebrew competition of the year. It is the War of the Worts XII, which is the largest homebrew competition in the area. It will be held Saturday February 17th at the Iron Hill Brewery in North Wales, PA.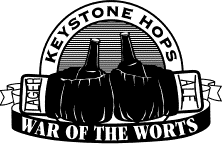 War of the Worts XII is an American Homebrewer's Association sanctioned competition and provides you an opportunity to have your homemade beer, cider, and mead evaluated by BJCP registered judges. Prizes and awards will be given for beers placing first, second, and third in each category, and for Best of Show. I still have not decided if I am going to judge this years competition, I have a previous obligation I may be involved with.
On to the brews, this is what I mailed in this year to be entered:
Honestly, I don't have high hopes for these brews, not becasue they aren't good but because they don't fit so well into the categories. If I could choose one to do well, I would choose the Homegrown Session Ale because it is made with all homegrown hops. More after the competition.