Almost two weeks ago now I received a new toy in the mail that I have wanted for some time now, my new grain mill! There are many different brands out on the market available to homebrewers, and several are supposed to be very good. I narrowed my choices down to two companies the Barley Crusher and the Crandandstein mills.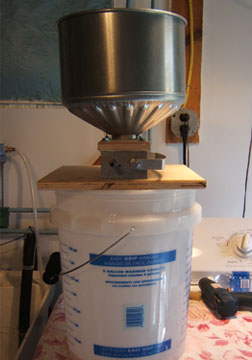 I decided to lean a little in favor of the Crankandstein because I have actually seen it in action. On there website they offer many different varieties that all accomplish the same goal, to crush grains in particularly malted barley. I decided to go with their packaged deal which they offered. It includes a base to hold the mill/to rest on top of wherever the gains will be going (ie – a bucket), the mid-level mill itself (the model the owner of the company actually uses), a mounting board for the grain hopper, and the grain hopper itself. This mill is fully adjustable like most of the others just not as easy to adjust as some. Some of the mills they offer have three rollers which double crush the grains vs. mine which has two rollers. All of the mills are meant to be drill or motor powered though they do offer an optional handle. I chose the drill technique
The objective of a grain mill is to squeeze the endosperm (inside) of the grain from the husk (outside), trying to leave as much of the husk in tack as possible and crushing the endosperm as much as possible without turning it to flour. The endosperm is where all the starches of the grain are which is what gets converted to sugar during the mash, which in turn is what the yeast metabolize to make the beery-goodness we so love, and the husk is where the different malty flavors and color come from. The husk also works as a natural filter bed during the sparging/run-off process to help keep as much of the grain bits in the mash tun while extracting as much of the sweet liquor called wort.
So far I have only used the mill twice, once to clean it/test it and once to actually crush grain for a recipe, a Pale Ale brewed with Simcoe, Amarillo, and Warrior hops – yum! I think I am going to be very pleased with this mill in the long run, and should never have to buy or upgrade to a new one as long as I maintain it and keep it clean. The only thing that would really make it better would be to motorize it, but that's another project for another day (Garrett you bastard!).