(Working Name) – Anyway, I just finished brewing another Pale Ale about an hour ago. The day went really well without any major problems. This should be a pretty easy-drinking Pale Ale thus the ability to be able to drink it during your favorite past time, like Cornhole!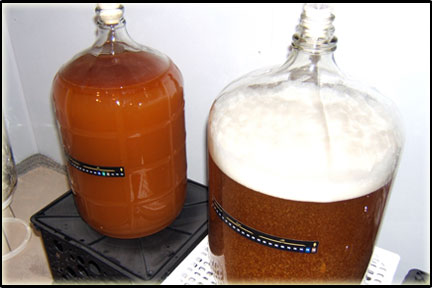 One of the problems with brewing Pale Ales is that Karen doesn't really dig the bitter factor of Pales Ales. So, this time around I tried to brew a less bitter but still just as hoppy Pale Ale. I used a very simple malt bill and a hodge-podge of hops, some Willamette, some Cascade, some Perle and I'm going to use some Magnum to dry hop with. Firstly, more as an experiment, I decided to flip the order I'd use the hops in. Typically people use high alpha acid (AA) hops toward the beginning of the boil and low AA hops toward the end, so instead I did the opposite. Plus, I also didn't add ANY early addition hops, I waited until there was 30 minutes left in the boil to add any hops and then hopped accordingly from there. I'll take credit for the AA flip may it be a good, bad, or fun idea, but the holding off on hop additions isn't my own.
I've read a few threads on line recently that talk about how on the West Coast there is a movement right now (at least in the homebrewing community) to get more of the bitterness from late addition hops which is supposed to be a smoother bitterness versus the sharp bitterness some early addition hops can give you. They have been using this technique a lot with Double IPAs mostly. Another technique I have been reading about, that even some breweries are using, is a mash time of half of what we've been told to use, 30 minutes. And that appears to almost be more of a habit than not with one brewery claiming they can convert their grains in about 10 minutes! Wild.
Also, today I got to transfer the Saison to a secondary fermenter. That thing was a monster of a fermenter so I am going to give it a little extra time. Plus, though the SG right now is low, I'd like it lower. I want it dry and crisp and refreshing low. I want it low enough that it makes you thirsty for another one while your drinking the one in your hand. Anyway, the OG was 1.074 and today it was at 1.014, I'd like to see 1.010 honestly. Also, it was still a little cloudy so hopefully it'll fall more clear. I wound up saving the yeast from this batch too. Maybe I'll plan on something Belgian sometime soon; Tripel, Dubbel, Specialty, "Dirty-Dirty Scarry Farmhouse Crazy" – dunno. I need to buy/order more ingredients anyway some time soon.