You know that I've been feeling tight on time since there has either been one of two things going on: A) Not enough posts going up or B) Posts with more than one subject that could be multiple posts (D) Stick it in the pooper) You know what, I changed my mind, I'm tucking some of those others posts back for later, this is what you get for now, you'll see . . .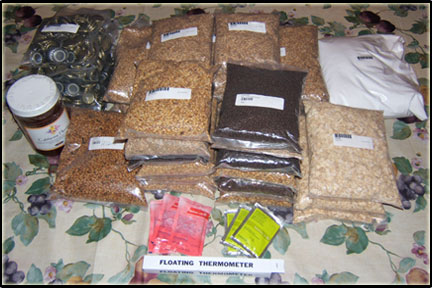 So here's some of the supplies I received in the mail the other day. I actually placed two orders, one with Northern Brewer (NB) and one with More Beer (MB). From NB I got a new Auto-Siphon, some dark Belgian syrup, some grains and hops I couldn't get from MB, and the last of the supplies I needed for an upcoming kegging/bottling experiment. From MB (see above picture) I got a bunch of different grains and hops, some back-up dry yeast, a new thermometer, some caps, some corn sugar, and some honey. I prefer to order from MB because of their offer for free shipping if you spend over $60. Unfortunately MB has really gone down hill as of late with shipping everything that was ordered, and they are becoming more and more of a hassle to deal with about their mistakes. I'd say the last 3 out of 4 orders have had something left out, and the last 2 out of 3 times it has been a hassle to get them to ship out what was missing at no cost for shipping. Versus with NB I've only ordered three times and each time they have been fast and have had things in stock which MB does not. Maybe that free shipping thing isn't all that it is cracked up to be . . . ?
So, as it is obvious I ordered a bunch of ingredients, that also means I have a bunch of brewing planned! Now that the temperature is about to be more cooperative I'm going to be more inclined to brew more often. So what is on the menu do you ask? Well, here's a taste of what I had in mind when I ordered the ingredients and what I have preliminary recipes written up for, obviously all of this can change. All of the following are planned for 5 gallon batches: an Amarillo Amber Ale, RyePA (Rye India Pale Ale), a Tripel, a Dubbel, a Belgian Red, a Honey Oatmeal Stout, and an Imperial Stout. Sounds tasty, huh? A few of these really should be brewed sooner than later so that we'll be able to appreciate their flavor this holiday/winter season. I think I am going to do another hard cider this fall and do it differently than last time, and maybe another mead, a sweet mead this time. I'd actually like to get into the habit of doing a cider in preparation for every Autumn and at least a yearly mead if not more frequently. I don't think my first attempt at a cider or a mead were stellar, but I think they are both simplistic in comparison to making beer yet show a lot of potential for creativity, enjoyment with non-beer-drinking friends, and speed (in making that is, not aging).