OK the score sheets and prizes came in the mail today so now everyone can hear how we officially did.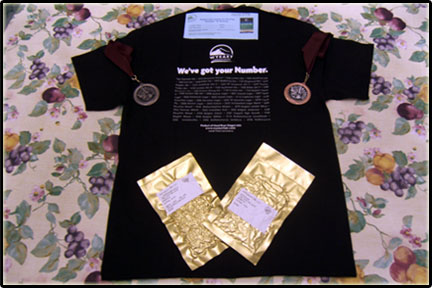 For prizes for this competition they gave out cool medals with the Malt Madness logo on them instead of ribbons, I liked them alot. The biggest issue is that for the Gnarleywine we had two brewers and received one medal. I have already written to the Malt Madness coordinator requesting if we can have a second one, we'll see. For the 3rd place Gnarleywine we received two 40z (approx) bags of pellet hops, they are Brewer's Gold and Ahtanum. I have never heard of the Ahtanum variety, but Hop Union has it listed in the data base. Personally I could use either since I have no preference, so I'll let Garrett decide which hops he wants and he can have them. And for the 2nd place Hazelnut Brown I received a Wyeast T-shirt (correct size) and a Wyeast coupon for a free Activator pouch of yeast. I have never used Wyeast yeast before so this should be cool. Looks like Garrett received his score sheets back yesterday so you can check out his post here.
Now, onto the summaries of the score sheets:
Saturday IPA – 19/20 – "This beer is lacking in hop aroma, flavor, and bitterness; the finish is sweet and cloying." – "Needs greater attenuation, pitch more yeast." (I must say, this beer had 22 total ounces of hops and went from 1.074 to 1.016, these comments don't even make sense.)
Saison – 28/25 – "A Saison that may have fermented a little warm." – "Perhaps lower fermentation temperature to eliminate fusel alcohols."
Gnarleywine – 38/32 – Third Place American Barleywine – "An excellent American Barleywine, well done!" – "This is a malt monster! I love this barleywine . . . Very, very drinkable."
Hazelnut Brown – 37/36 -Â  Second Place Specialty Beer – "A nice beer that features prominent hazelnut and chocolate flavor." – I enjoy the hazelnut flavor, it presented itself nicely."
It's funny (in a not so good way), I just looked at all the judges ranks and was kind of turned off by how "young" this group appeared to be (I know I am only a BJCP Recognized Judge). Out of the 8 judges their were 2 Apprentices (unqualified), 5 Recognized ( the lowest qualified level) and 1 Grand Master Level III that judged out beers. Our best score came from the GMLIII judge, nice! Anyway, I'll take what we got. I think the next local competition is Split Rock in November.