So I was thinking the other day, I wonder how many batches of beer I have brewed and when will I brew my 100th batch so I can do something big and special?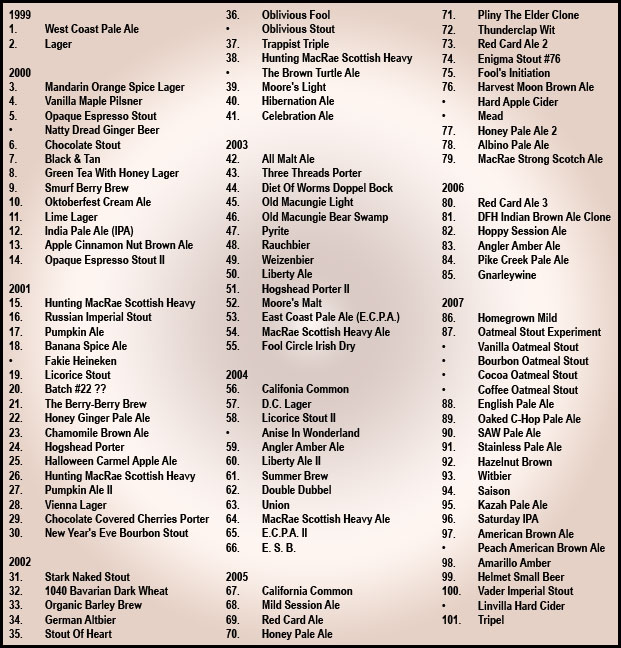 Well, it looks like I have brewed 101 batches of beer with brewing my 100th batch in October of 2007. Very unceremoniously, oh well. But the cool thing is I wanted to do something bigger than normal and something a little special. Well, for me an Imperial Stout falls right into that category, definitely bigger than normal and special in the sense of it's not a beer you typically get to make (my third attempt, but really my first true Imperial Stout if you feel me).
So I guess I'm going to break these down into some stupid stats and see how things look:
Total number of different beverages made:Â  114
Total number of beers brewed: 101
Total number of different styles: 41 (I think 😉 )
Year with the most number of beers brewed: 2001 & 2007 – 16 beers each
Year with the least number of beers brewed: 1999 – 2 beers
Beer repeated the most number of times: MacRae Scottish Ale
My 5 favorite beers, in no particular order, and subject to change: MacRae Scottish Ale, Hogshead Porter, E.C.P.A., Pliny the Elder Clone, ABA Grand Experiment
My 5 least favorite beers, in no particular order, and subject to change: Banana Spice Ale, Chocolate Covered Cherries Porter, Organic Barley Brew, All Malt Ale, Old Macungie Bear Swamp
My 5 beers I may consider revisiting and trying again, in no particular order, and subject to change: Opaque Espresso Stout, Chamomile Brown Ale, New Year's Eve Bourbon Stout, Moore's Light, Union
Most award winning beers: E.C.P.A. II and the original Red Card Ale both have received 5+ awards.
Honestly, I would love some feedback, especially from you fools who have been drinking my beer for the past 100+ batches (thanks you idiots)! What were some of your favorites, least favorites, what would you like me to try again, what haven't I done that you'd be interested in seeing me do? I'm interested in your comments. Thanks to all who have enjoyed the ride with me.