Here's another quick one for you. Last night I went out to Rox's Bar & Grill to see DC's band The Kinda Blue Band tear it up for the night-before-Thanksgiving festivities.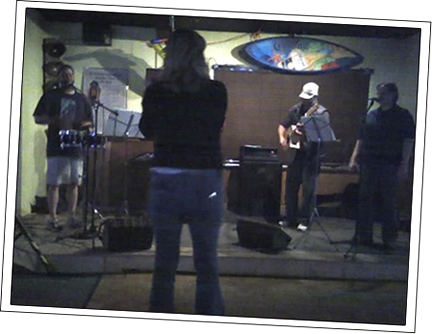 Dave's band was booked once again at Rox's Bar & Grill in Wilmington, DE by Price's Corner. Originally I wasn't going to have the opportunity to go based on the fact that another show I had said I was already going to go to was that night also, that being the Big D Turkey Testicle Music Festival. Well, during the zero hour before the show there was a punt and it was received and we wound up at Rox's to see The Kinda Blue Band instead. Rox's is kind of a dive bar type atmosphere that can't decide how it wants to grow up. Supposedly under it's old name and management it was know for being a "biker bar" with all the attributes that come from being one. It now has cleaned up its act (or tried) and can't quite nail down the feel it wants. Is it going to be a bar with pub games (darts/billiards/video slots), a music venue with new and returning bands on a regular schedule, or just let the old crowd back in and return to its roots. To say the least I have mixed emotions about the venue.
But for me, the main three reasons to go last night was to see DC's band play, to see Karen sing with them (6 songs I think), and to hang with all of my friends who would be up there doing the same. Dave's band did well and sounded better than last time. Last time Dave's bongos were either turned up too loud, or everything else was turned down too low. This time they got their sound much more in check. Johnny Z on guitar probably could have still been turned up a little and Dave's bongo's probably could have still been turned down a little, but all in all much better sounding. While Karen was up singing she sounded good, but again she was turned down to quiet like last time, but that was remedied by the end of the first song. Once she loosens up on stage a little bit more she is going to be an even better addition when ever the guys ask her to join them. Really the only other complaint I have about the music is that there felt like there were too many long gaps between the songs. Kind of like the band would draw us in and hold our attention for what ever song they were playing then take a minute plus long break in between songs and have to regain our attention. If they could just come up with a tight set list and follow it without to many long pauses (it doesn't have to be continuous, just not long pauses) I bet they could really rock the crowd. All in all I had a good night out and am not disappointed at all that I missed Big D.