So Friday (12.14.07) was Sly Fox Brewery's annual IPA Day event. To say it was ridiculous fun would be an understatement.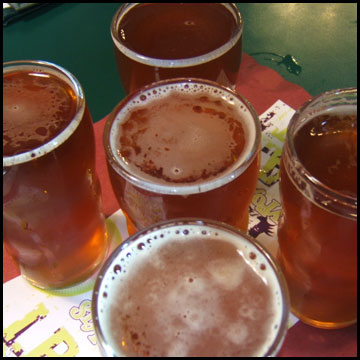 See the rest of the pictures from this year here,
and the pictures from 2006 here.
This year it was Mike, Robert, Mitchell, and myself that made the journey. We all wound-up with the day off from work so we decided to meet early for breakfast and head on up to Sly Fox in Pheonixville. We met at my house and I decided to kick-it local style and made pork-roll, egg, and cheese on kaiser buns for breakfast, they were banging. We then hit the pike and went we to Sly Fox arriving around 10:30AM. This year Sly Fox had 15 different IPAs available. Last year they sold it as one giant 15 glass sampler, this year they sold it as three 5 glass flights. I liked the impression of the 15 glasser better, but the 5 glass flights really only made sense. We stayed for quite a while have all three flights each, lunch, and a couple additional pints. The day was wacky in the best sense. We got home maybe around 5PM, that's some serious IPA dedication. I'm already looking forward to next year.
Feel free to click on the links above to check out the pictures to form your own opinions on what kind of day it was.