Tuesday, January 8th, 2008
So, I probably got this magazine like over a month ago now and have slowly been reading it. This is what I have remembered.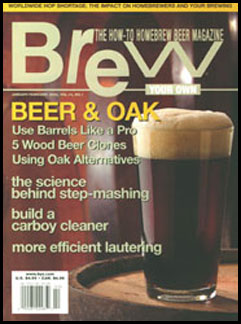 This was their beer & oak issue, OK BYO you have my attention. There was a cool piece on barrel aging with professionals. Basically they asked the same questions to several different professional breweries about barrel aging. Some of the breweries were Stone, Avery, Russian River, and Jolly Pumpkin. All of the answers may not have been that interesting, but I always find it intersting to hear what the pros have to say, especially Vinnie Cilurzo from Russian River. They also had a pretty informative article on preparing, maintaining, and filling new and used barrels. Something I'm sure I would have read up on if I ever pursued a barrel but not to much that I already knew. In their replicator section they then included five different recipes for "barrel aged" beers. I don't know how much I trust these recipes some time, but they could be good to use as a launch-pad.
Later in the issue was an all to familiar account of the 2008 hop scenario labeled "The Bitter End". I think the article was fine, though it is starting to sound like beating a dead horse at this point, but CC actually did a decent job stringing it all together. In a nutshell hop supplies are horrible this year and demand is ever rising, be prepared to make substitutions and pay about 4X what you were paying before for hops. There was another decent article by John Palmer in the Advanced Brewing section about lautering efficiency. I remember it being good and I also remember it being very similar to what is published in his book. It is one of those articles I will probably go back and read sometime soon. Over all not a bad issue of BYo from what I can remember.