So tonight I sampled four new beers that were brought back from GA for me from my bud Garrett.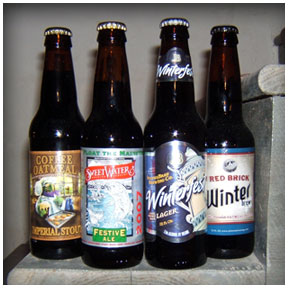 First up was the Josephs Brau Double Bock Lager Winterfest – this was a big malty slightly sweet beer that I was expecting to be just OK but turned out to be a pretty good drinker. This isn't an Oh Wow beer, but if it were local to me I would buy it at least seasonally.
Next was the Sweet Water Festive Ale – this was my least favorite out of the four tonight. Closest to an un-spiced (or lightly spiced) winter warmer style beer. Nothing was really wrong with this beer, it was just boring, and sometimes that's all it takes.
After that was the Red Brick Winter Brew – this was a double chocolate porter is how I think they describer it. This was the beer that inspired the beers being brought back when I saw an empty 6-pack holder at Garrett's and mentioned that looked good. And it was good. I drank it out of a snifter and slowly let it warm. As it warmed the flavors totally developed and came to the front, nice.
Finally was a beer I've wanted to try for a while, Terrapin's Coffee Oatmeal Imperial Stout – (mmmmm, in a Homer Simpson voice). This beer smelt like what I remember the Opaque Espresso Stout smelling like, and it was quite good too. I wish they would have focused more on the base beer and a little less on the coffee, but I won't complain. There wasn't too much coffee, but a more developed stout could have helped carry this beer.
 Thanks so much Garrett for bringing me back beers. What can I say besides, you da man!