Yesterday, 2.23.08, was the War of the Worts XIII homebrew competition, the largest local competition in the area. It was held once again at the Iron Hill Brewery's North Wales location.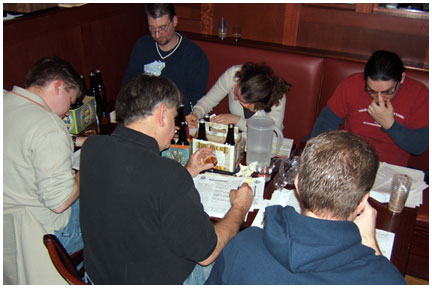 Not only is this the largest local competition, but this was the largest this particular competition has been yet. With 554 entries and over 60 judges, the place was packed to say the least. I entered four beverages and also judged the competition. I entered my '07 Linvilla Cider, the Vader Imperial Stout, my Tripel, and my Dubbel. I also have now earned enough judging points that I am now officially a BJCP Certified Beer Judge, versus being Recognized previously. Anyway, here are my results, but you can see the rest of the results here:
Dubbel – 29/28 – "A good effort that needs some tweaks." – "A nice light example that almost seams like a big Belgian Pale Ale."
Tripel – 31/28 – Second Place Belgian Tripel "A good effort that lacks a few key components favored in the best examples." – "Very good base beer and an excellent start."
'07 Linvilla Cider – 31/29 – "Easy drinking dry cider – could use more body and carbonation to balance." – "This is a nice, crisp, refreshing cider that would be great on a hot summer day."
Vader Imperial Stout – 38/35/36 – Third Place Imperial Stout – "Great effort – loads of flavors that are in good harmony, complex like it should be." – "Very good R.I.S., could use more fruity esters or maybe a tad bit of hops, I like this beer!" – "Very good beer. Complex. Aroma and flavor don't match. Rich. Need a fireplace."
So there you have it in a nut shell. I judged Scottish & Irish ales in the morning and English IPAs and Imperial IPAs in the afternoon. Somehow things didn't wrap-up at Iron Hill until late, like 8:30PM or so, and I didn't get home until after 10PM. So essentially a 14 hour day of concentration and judging/drinking beer, it was a very long day.