(savor) an american craft beer & food experience, may 16-17, 2008, andrew w. mellon auditorium, washington d.c.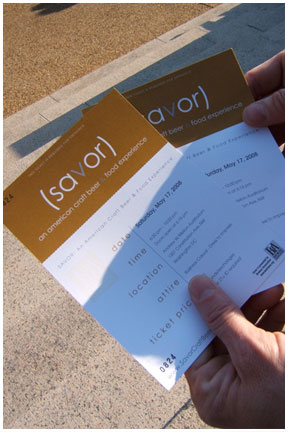 So this past weekend (May 16 & 17, 2008) was the first ever Savor beer and food event presented by the Brewers Association. Robert and I attended the Saturday evening event (6:30-10:00PM) held at the Andrew W. Mellon Auditorium in Washington D.C. To say this event was unique is not enough. To say this event was unlike anything I have ever attended is at least the truth. To say that this event was a great time, well, that's what I'm going to say.
I had heard about this event like six months ago or so and really started to try and find a partner in crime about two months ago. It took until about two weeks before the event for me to convince someone to go, and I bet Robert doesn't regret it one bit. This event was to my knowledge the largest craft beer and food pairing event of its kind. They paired approximately 48 different foods with 96 different beers. The idea was to show that not only is beer as good as wine for food pairings, but it may be actually better with all of the diversity that has arisen in the past 20 years or so in the craft beer movement. Actually, it was more than that, there was more of a 'shock and awe' factor involved: dress was business casual, the location was an old auditorium with many steps and columns, much like the Led Zeppelin Houses of the Holy album, the decor was dazzling, the representatives were top-notch, owners, head-brewers, Brewer Association top members, the food was way more gourmet than pretzels and waffles, and the beers were only the best in all of America. It was one of those 'Wow' moments when you first walked in and it never really got dull.
Throughout the weekend during the event the Brewers Association put together small (100 people) demonstrations and seminars on the different attributes that the craft beer community is making. We were able to attend the He Said Beer, She Said Wine: A Debate on Food Pairings with Sam Calagione of Dogfish Head and Marnie Olds a well established sommelier. It was actually a very fun and well thought out discussion, they offered us three small food selections each paired with a beer and a wine. First was chips and spicy salsa which was paired with Stone Smoked Porter and Riesling Loosen "Dr. L", the beer won this round by crowd vote. Second was aged farmhouse cheddar cheese which was paired with Rogue Morimoto Soba Ale and Cabernet Sauvignon Concha Y Toro "Marques de Casa Concha", the wine won this round. And third and finally was Askinosie dark chocolate which was paired with Dogfish Head World Wide Stout and Banfi "Rosa Regale" Brachetto d'Acqui, the beer won this round giving the night to beer. Sam and Marnie have done similar beer and wine pairing/competitions 22 times, and now beer has won 11 and wine 11, interesting. They both really had a lot to say on the subject, and have a great book available too.
Some of my favorite beers, and/or foods from the night that I can remember were: New Holland Brewing Company's Dragon Milk Oak Aged Ale paired with Maytag Blue Cheese, New Albanian Brewing Company's Thunderfoot Oak Aged Cherry Imperial Stout, Port Brewing and The Lost Abbey's Judgment Day Abbey Ale and Veritas 003, Avery Brewing Company's Fifteen (a farmhouse ale brewed with Brett) paired with Christopher Elbow Venezuelan Spiced Artisan Chocolates, Deschutes Brewer's Obsidian Stout paired with Blue Cheese and Walnut Shortbread Rounds, Foothills Brewing's Hoppyum IPA and Sexual Chocolate Imperial Stout paired with Crostini of Figs and Prosciutto, Russian River Brewing Company's Pliny the Elder and Supplication, Stone Brewing Co.'s Ruination IPA paired with Peking Duck Purses, and of course Dogfish Head Craft Brewery's Palo Santo Marron and two versions of World Wide Stout ('06 &'07). The biggest disappointment was 21st Amendment's Watermelon Wheat paired with Strawberry Chicken Salad, the beer was underwhelming and the salad almost made me sick, but really the only disappointment I can remember. To say that it was generally overwhelming in the best way possible isn't saying enough.
My brother Dave also helped me start a really useful Google Map which helped me pin-point all of the local beer spots we may want to check out while we were in the area and their relationship from our hotel and the event. In addition to Savor we also stopped at RFD (a beer bar) and Capitol City Brewing Company (a brewpub), both were pretty cool and very close to the hotel.