Early this week I received some more kegs in the mail from More Beer.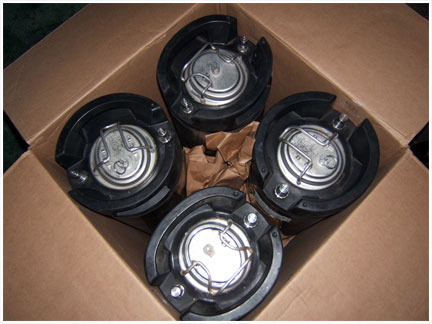 More Beer sells three different kinds of kegs, new, used, and rebuilt. I rolled the bones and went with the rebuilt kegs. Sure they were more expensive than the used kegs, but after you factor in the cost of the new gasket kit (inexpensive) and my headache and time from rebuilding them last time (expensive) it felt totally worth it to me this time to move in this direction. Plus, I've been sitting on a $100 gift certificate to More Beer for almost a year now (thank you Fool Circle tasting crew) so really these puppies turned out to be quite cheap.
So now I have 8 kegs, 4 filled with beer and ready to go, 3 lined up for beers in carboys basically ready to go, and 1 still waiting. Am I going to have to order more kegs again soon? Probably not, I'm just going to have to start drinking more beer! Really, I think if I had 12 kegs I would never (or only once in a blue moon) run into a lack of keg space issue.