I got to try a new beer AND a new beer-style for me tonight, awesome!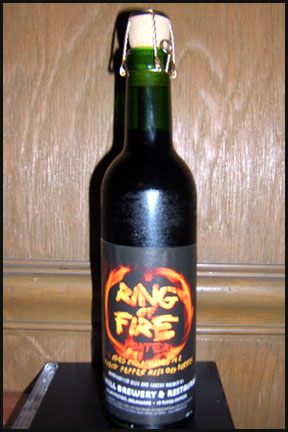 This is the Ring of Fire Porter from Iron Hill Brewery. I bought three bottles yesterday, one for myself soon, one for myself later, and one for a trade. I also happened to be at Iron Hill again today and bought another bottle to split with the people I was with, Todd, Carrie, and Karen. The bottle is 13oz and 9 dollars, so to split between four you don't get much to sample but at a good price.
This is what the bottle has to say: Ring of Fire Porter  – Aged and Finished in a Tabasco Pepper Mash Oak Barrel – Ring of Fire Porter: Brewed naturally with the finest malted barley, hops, and yeast. Our house porter, aged and finished in a Tabasco pepper mash oak barrel, imparting a hot pepper character which marries with the roasty and subtle chocolate notes of the porter. – OG: 1.057, Color: 23L, IBU: 37, ALC: 5.4%.
Rumor has it that this was originally a lighter beer, Iron Hill's Light Lager perhaps, aged in the Tabasco barrel. Problem was there wasn't enough to the Light Lager and basically they made a Tabasco beer, for real. Again I believe this to be the West Chester location, supposedly Chris figured that they needed a bigger beer with more body and flavor to help cut and carry the Tabasco. They chose their house porter, the Pig Iron Porter, which was a great choice. They really built a great "hot chocolate" one off.
I thought the beer had a great Tabasco burn characteristic commingled with the roast and chocolate of the porter, but with neither being overbearing. Both the Tabasco-type heat/flavor and the porter-like body/chocolateliness built a strong beer. The heat of the Tabasco did build a little in the back of the throat and made sure its presence was known, but I never felt like i needed to cool it down or rinse it out. Very excellent attempt at an ambitious idea. If it wasn't so expensive, I would love to marinate some London Broil in this to make an excellent BBQ/grilling addition.