So I have recently finished four beer magazines with the anticipation of two more on there way, might as well give my two cents.
Hey who's that pimp with that fine looking mustache on the cover of BeerAdvocate magazine? Well it's none other than Fred Eckhardt beer legend in his spare time rockin' out the handlebars. Kind of a weird thing to mention, but there is a super-fly Dogfish Head ad on page 9 with some old school cats break dancin', real smooth. Don Russell wrote a pretty good piece in the Style Profile section on Belgian IPAs. Yeah, I know it sounds weird and that's the whole point. The beers and brewers a lot of American craft brewers borrowed ideas from, the Belgians, are now giving props back to the Americans and there innovative style by using much hops in some styles of beers, thus the birth of the Belgian IPA. Try a Houblon Chouffe Dobbelen IPA Tripel if you want a prime example of what he's talking about. One of the first 9 Steps to Beerdom where I didn't know the brewer also, Steven Pauwels brewmaster at Boulevard Brewing Company and his journey from Belgium to American and how he got to where he is now and what it is that makes him, well him.
Dude, then in the Innovation article I almost lost it, and I still want to write this guy. This dude, Dave Hoops in Duluth, Minn., has figured out how to legally do what I've been talking about for a while. He is the "Beer Man", the modern day Milk Man. Basically replace the milk with beer and now your running his route, place your order and he'll deliver like take-out food. Which leads me to my idea, a pizza joint brew pub (like Pizza Port in CA) that not only delivers pizza, but delivers beers too. "Yes, I'd like to order a large pepperoni pizza and a growler of the house pale ale." – Um, sick, no? I've never looked into the legality in DE and it might be perfectly legal, but especially in like Newark, a college town, it would probably kill. Oh yeah, then there was a great article in the Cuisine a la Biere on a beer brunch with beer used in every dish plus recommended pairings. The "monk's" pan pancakes (Danish) looked ridiculous topped with raspberry beer syrup and malted whipping cream paired with a breakfast stout, yowsa.
Then they did a cool featured article called Profiles in Beer where they took the biggest beer pimps around and profiled there stuff. This was the second year in a row and still some major players. There was Kim Jordan from New Belgium Brewery, Brett Joyce from Rogue Ales, Steve Hindy from Brooklyn Brewery, Fred Eckhardt overall beer pimp, author, critic, Dan Carey from New Glarus and a few others – major big pimpin'. And the issue ended with an article with a great title, Do I Come To Your Office and Drink a Beer? To say this was a top-notch issue isn't to say quite enough.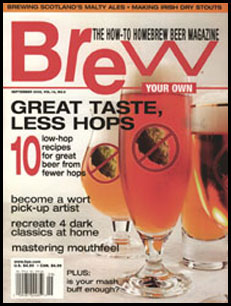 Also just wrapped up the September issue of BYO Magazine. The issue was suppose to address the hop shortage and things you can do and beers you can brew to work with it. In the Homebrew Systems That Make You Drool section there are a few shots of a sick homebrewery, the Boathouse Brewery,  that I have been secretly admiring for a couple years now online, pure beer pr0n, check out the pictures on their site. Jamil wrote a decent article on Dry Stouts and I will probably reference it later, if I can find it again, for I am planning on brewing a dry stout in the next few months. One of the main articles on Scottish Ales kind of fell flat, I'm not quite sure why, but it really just didn't hold my attention. It was funny the article on the Ten Low Hop Recipes was a great idea and sort of useful, but the funny part to me was each recipe was "called in" from a different homebrew shop around the country, so essentially no one wrote any article. It reminds me of a community cookbook, decent idea, but no one wrote a cookbook, it's just a compilation of different recipes from different people – what ever, just saying. And the last piece, Beyond Beer, grabbed my attention enough to think, hummm, maybe I'll make a basic wine kit and see how things turn out? I'm sure if I do a beginner kit, I could handle that. We'll see!