Well, I just recently got back from my first Phish shows in almost five years, and, well, Oh My God!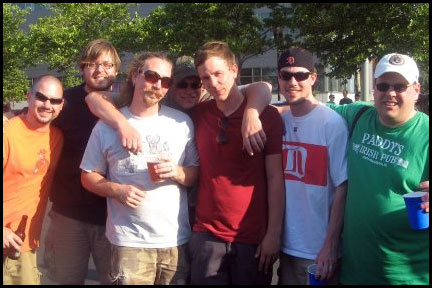 FYI, this picture is ridiculous! From left to right: Dan Woolard, Erik Mitchell, Brian Moore, Craig Mummert, Frank Maier, Keith Collins, and Mike Kavanagh. I had the ultimate pleasure of enjoying a Sunday afternoon with these guys prior to a Phish show in Camden on Sunday. I have know these guys for going on 20 years (!), I met them all between 1989 and 1994 – crazy, crazy, crazy!!
Anyway, back to Phish, last time I talked about this guys I was more than disappointed with the way things ended, and I was very sceptical for the way things were going to re-star, again. I was very broken-hearted back in 2004 and I was scared to let Phish back in, it was very much like an old girlfriend. But, they did good, they did real good! I was lucky enough to go to three show this summer tour, Thursday 6/4 at Jones Beach, NY, Friday 6/5 at Jones Beach, NY, and Sunday 6/6 at Camden, NJ. If everything the band is putting out there to the public is true, this is a very clean Phish that is rocking like it is the mid-nineties again! I had so much fun at the two Jones Beach shows and Camden was off the charts for me, probably top five favorite shows I've been to. Between the people I got to hang with in the lots, to the vibe inside, to the music Phish cranked out it was one amazing time.
Without further ado, and if you are interested, here are the setlists from the three nights:
June 4, 2009
Nikon At Jones Beach Theatre, Wantagh, NY
Set One
* Grind
* The Divided Sky
* Ocelot
* The Squirming Coil
* Punch You in the Eye
* Dirt
* NICU
* Ghost
* Run Like An Antelope
Set Two
* Water In The Sky
* Birds Of A Feather
* Drowned
* Meatstick
* Time Turns Elastic
* Waste
* You Enjoy Myself
Encore
* Rock and Roll
June 5, 2009
Jones Beach, Wantagh, NY
Set One
* Wilson
* Buried Alive
* Kill Devil Falls
* AC/DC Bag
* I Didn't Know
* My Friend, My Friend
* Ya Mar
* Theme From The Bottom
* Boogie On Reggae Woman
* Split Open and Melt
Set Two
* Down With Disease
* Twist >
* Piper >
* Backwards Down the Number Line >
* Free
* Twenty Years Later
* 2001
* Slave To The Traffic Light
Encore
* A Day in the Life
June 7, 2009
Susquehanna Bank Center, Camden, NJ
Set One
* Chalk Dust Torture
* Fee
* Wolfman's Brother
* Guyute
* My Sweet One
* 46 Days
* The Lizards
* The Wedge
* Strange Design
* Tube
* First Tube
Set Two
* Sand
* Suzy Greenberg
* Limb By Limb
* The Horse >
* Silent in the Morning
* Sugar Shack (debut)
* Character Zero >
* Tweezer
Encore
* Joy (debut)
* Bouncing Around The Room
* Run Like An Antelope >
* Tweezer Reprise