Saturday, February 27th, 2010
So the other night it was time to re-up on my Iron Hill Mug Club renewal, and I gladly paid the annual fee to take advantage of this great Mug Club.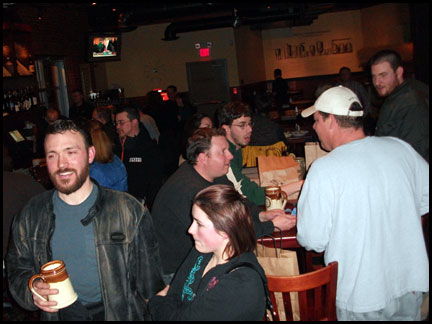 This is my sixth year as a member of the Iron Hill Mug Club I believe and every year I feel it is a great opportunity for anyone who goes to any of the Iron Hill locations even on a semi-regular basis. Here's the basics: you pay a $35 annual fee to be a member, with said membership you get to take home a lovely 24oz ceramic mug (each year it's different), you get any Iron Hill beer poured in your 24oz mug for the same price as a 16oz beer (quick math, every two mugs = 1 free pint), they have Mug Club only promos throughout the year, there's an easy points system to acquire gift certificates, and all of this can be used at any of their eight locations! Jebus, enough of my jibber-jabber, here's the straight dope from the horse's mouth:
Mug Club Loyalty Card Perks
Drink from an exclusive 24 ounce signature handmade beer mug
Any-time filling of the mug for the same price as the 16 ounce pint
Use of your mug during any Iron Hill pint promotion
Invitations to exclusive mug club events throughout the year
Direct contact via email with the head brewer regarding upcoming releases and events
Earn a $25 credit reward for every 300 points accrued
200 free points credited at time of sign-up
Take home collectible mug at time of sign-up or renewal
Mug design changes each year
Mug Club Loyalty Card Rules
Cost of membership is $35 per year
Mug club memberships expire yearly and must be renewed each year during the month specified on the back of your membership card
Unused points roll over at time of renewal
If you choose not to renew, unused points will be forfeited
Membership and card are non-transferable
Points are accrued for each dollar spent, excluding tax and tip and the purchase of gift cards
Pretty freakin' dope, I know. So come on out and support you local brew pub(s). Bring a friend, join together, now the two of you have something else in common and something else to do to keep yourselves occupied.