Better late then never I suppose … but Austin 2010 was AWESOME!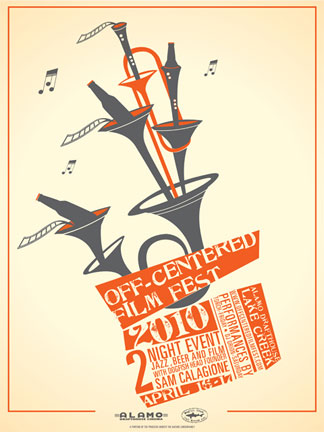 You can see all the pictures from the trip here, just CLICK
This may be a little briefer than it could be, but we'll see… So this years Dogfish Head Off-Centered Film Fest was April 16/17, 2010. We had gone last year because of our award winning movie World Wide Clout which came in third place AND we got to back again this year because of our new award winning movie Burton Baton and the Legend of the Ancient Ales which came in first place – unbelievable! So this year Erik (Klaus Von Hommelbier), Robert (Burton Baton), Wooly (Johnny Squall), and myself (Sah'Tea) all went down from Thursday to Sunday to get our Austin rock star on! To say the least we had a blast.
So Thursday we had a reasonably timed flight, we left Philly around 9:00AM and arrived in Austin around 3PM-ish. DFH had us booked at a pretty nice hotel for Fri and Sat but on Thurs we decided to book at a different hotel down the street to save a few bucks, it was pretty ghetto. Mental note: next time front the extra couple bucks for the nicer digs. When we got to the hotel we all kind of fell out without saying anything to each other, before I knew it we were all basically asleep for a little over an hour. When we came to we wanted to go out and buy supplies for the room, like beer, water, snacks, and then head out for the night. So we went to our favorite spot the H.E.B. (which we call the heeb) and stocked up, got some decent shit, and some weird shit, like pickle juice, HEB-buddy grape body wash, and some snack that made Roby's fingers all red that looked like death wiped off on a white hotel towel – I can't remember what that shit was! After the HEB we wanted food and beer. Erik had pulled up some breweries/brewpubs on his phone and we went on the hunt. After our second one came up permanently closed we needed to punt. Since we were all tired and hungry we decided to go with a reliable choice, the Gingerman. The Gingerman has like 90 taps and probably almost as many bottled beers too. We all got something to munch on and tried a few local TX beers, good times. We weren't out too late, probably made it back to the room like 1AM-ish and sat up bull shitting and drinking Full Sail Session Lagers out of stubby bottles until about 3AM or so.
Friday we woke up around 10AM-ish to the dilemma of Erik's iPhone breaking. It sounds kind of lame, but honestly we relied on that thing as our calendar, our GPS, our contacts, and general interwebs connection to find shit in Austin. So we looked up the nearest Apple store which was at a mall like 30 minutes away, actually, everything seemed to be like 30 minutes away from everything else, go figure. Anyway, we got to the mall and found the Apple store and had to wait. Robert, Wooly, and I basically cruised the mall for like two hours. It was actually a half way decent mall, but when you're just killing time two hours at a mall is too long. Fortunately Erik was able to get his phone "fixed". Actually, it was three weeks out of warranty and the phone died, but the little Apple dude was cool and basically kicked down a refurbed one for free. So though the phone was wiped of all personal stuff (suckage) we did have access to the world again. After the mall we went for some lunch at a BBQ brewpub, Uncle Billy's,  that Wooly's cousin had recommended. BBQ + brewpub together, genius idea. The place was pretty cool, roll-up doors all the way around, so when they're up (which they were) you kind of feel like you're sitting outside. The house Pale Ale was pretty good, though their seasonal hop handle was empty, which I was a little disappointed about. The BBQ wasn't bad either, I had brisket, coleslaw, and fries, though their sauce was a little weird for me, kind of a cross between a tomato based BBQ sauce and a vinegar based. When we were getting ready to leave we stuck our heads into the brewery door to see if the brewer was around. He was, and was brewing, but still made time to chat us up a little bit. He was a really nice guy, though I can't remember his name, and totally gave us some recommendations of places to check out while we were in Austin, nice. After lunch we went to our other hotel, which was much nicer, thanks DFH. We kind of just lazed around the hotel from like 3-6PM, drank some beers, ate some snacks, listened to some tunes, and watched TV on mute while overdubbing our own commentary (So many rooms …) – you know dumb boy stuff.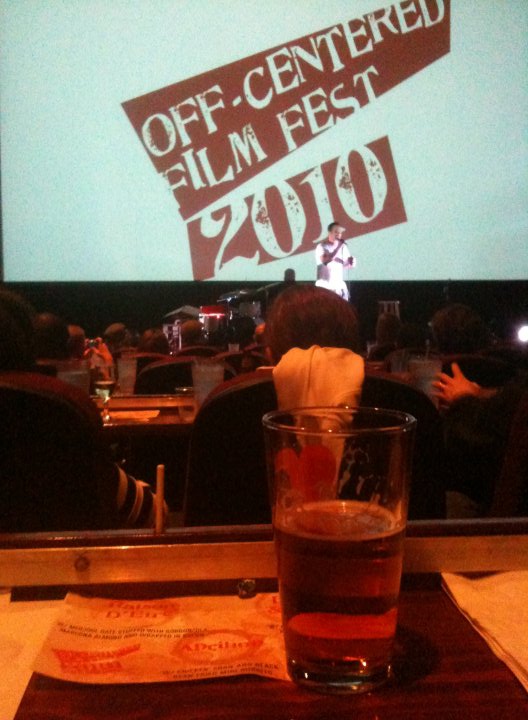 Around 6PM-ish we got our asses in gear and headed over to the Alamo Draft House to get ready for the DFH beer pairing/tasting. This year they decided to kick it up a notch from last year, so that was awesome. It was 15 beers paired with 15 small bites, all while this great local jazz band, Torch, played while old school black and white cartoons silently played over top on the big screen – really neat. We ran into a bunch of people from Austin from last year too, it was really cool, it kind of felt like we all picked up right where we left off, like it was the next weekend not a year later. Here's a list of what we had, both appropriate for foodies and beer geeks alike, and since I'm into both, well, score!
Aprihop w/ Chicken, corn, and black bean fried mini burrito
Raison D'Etre w/ Medjool Date stuffed with gorgonzola, Marcona almond and wrapped in bacon
Black & Blue w/ Crab wonton with blueberry sauce
60 Minute IPA w/ Full Quiver farms white cheddar
Burton Baton w/ Prosciutto, melon, and lime
120 Minute IPA w/ Blue cheese soufflé puff
Chateau Jiahu w/ Pulled pork slider, with house pickled red onions, and spicy mustard
Pangaea w/ BBQ Bison slider with cheddar
Punkin Ale w/ Chorizo/ beef slider with avocado mayo, lettuce, and tomato
Indian Brown Ale w/ House made smoked duck sausage
Palo Santo Marron w/ Chorizo, jack, and cojita quesadilla with roasted tomato salsa
Immort w/ Truffled parmesan cheese fries
Midas Touch w/ Midas Baklava
Raison D' Extra (no pairing)
Fort w/ Fort Sherbert
They served the pairings in 5 courses, three at a time. In between each course Sam, owner of DFH, and Paul, chef at Alamo, would get up and talk about their beers and food respectively and then discuss why they thought they would make a good pairing. It was actually interesting and you could tell they really cared about what they were saying. I think my favorite pairings were the Raison D'Etre with the stuffed date (called the "Date Rape" by the chef), the Burton Baton with the prosciutto, and the Immort with the fries. All of them were delicious, I don't think there was one stinker in the bunch. Wooly wasn't eating and drinking all of his pairings, so we all got to have a little bit extra of certain ones too, so that was nice. After the tasting we were still ready to go, so we went to the Draught House in the city. We really had no idea where we were going, so thank goodness for the iPhone. We did happen to make one wrong turn, so we had to make a U-turn in a parking lot. The problem with driving in the dark, in an unfamiliar town, and being in a hurry is that sometimes you don't see things, like the pole we backed into making the U-turn. Yup, jacked up the rental car, a 2010 Prius. It wasn't horrible, but I bet the bumper and the rear quarter-panel will need to be replaced. We did purchase the renters insurance, so fingers crossed there won't be any repercussions because of it. At the Draught House we ran into this cat Pliny who we met last year, super chill dude. The funniest part is he is originally from Delaware but now lives in Austin, WTF! So we pretty much saddled up with Pliny and his crew and hung until like 2AM when the bar closed and they kicked us out and then we all hung out front for like another hour. We got back to the hotel like 3:30AM-ish, grabbed another beer, and hit the hay.
Overall Thursday and Friday flew by, but were great times. The DFH tasting that night was superb. And we still had two more days of kickin it in Austin to go! Stay tuned and hopefully I'll have part two with Saturday and Sunday up soon. Saturday was the actual film fest and Sunday was gospel brunch and the flight home. Until then …