On Friday 06.11.10 I brewed a California Red beer, plus it was my first night brew in a while too.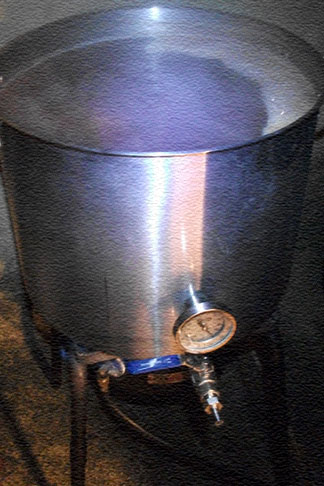 The CA Red brew night went well. I got started about 6:00PM and finished up about 1:00AM, seven hours isn't too bad. I have had a tough time committing to weekend brew days recently so I decided to see if I could pump out a brew night in a reasonable amount of time, really to see how feasible a week day brew night would be. I think as long as there were no mistakes and kept about that same pacing, I'd say it's quite feasible, especially considering I am usually just getting to bed around that time anyway.
This is the second time I have brewed this style of beer and I decided to duplicate the same recipe, only changing the bittering hops on account of what was available in house, from Horizon to Chinook. This is actually a really tasty beer, it comes off like candied hops. I also re-pitched the yeast from the American Wheat. I feel as if this is both a smart move and a risky move. Smart in the sense of I save $8.00 from the batch by not buying any new yeast, but risky because if there happen to be any problems with the first beer it will be carried over to the second beer. So far I have not run into any noticeable problems using this procedure, though the most I have ever flipped yeast is twice, and I'll probably flip this yeast one more time too.
I think I am going to leave all 10 gallons of this batch the same, but I am also slightly leaning toward lightly oaking five gallons of it too. I think the next brew is going to be an American Brown beer. This is a recipe that Garrett and I have brewed together before and that I have brewed on my own too. It's actually quite tasty. For that batch I think I will split it as a traditional batch and maybe add chocolate to half. We'll see what happens when we get there I suppose.
"All the leaves are green, and the sky is blue, I've been for a brew, on a summers day … California dreamin' …" Haha, whateva!