A little over a week ago was this years Ommegang's Belgium Comes to Cooperstown (BCTC) and I also had an opportunity to brew a beer inspired from the event.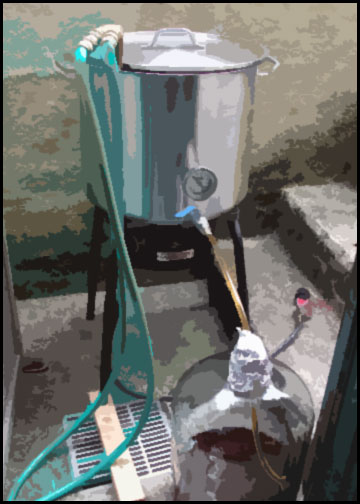 So upon the return from BCTC I had an extra day off from work, and as long as nothing came up I was going to brew. Inspired by all of the lovely Belgian-style beers from the festival I decided it was time to brew a Saison, even though my house is desperately in need of some hoppy-goodness. The brew-day and the recipe were both pretty straight forward and everything generally seemed to go fine, besides cooling which took WAY to long. In between the brew steps I was also able to clean six carboys and two kegs plus keg the American Brown and the Chocolate Brown. So whatever kicks first will get replaced by the American Brown. Originally I had thought about spicing the Saison but decided against it to see what profile the yeast contribute on there own. It was a Saison yeast and fermented a little on the warmer side so hopefully they'll get nice and peppery/flowery/spicy on their own with out going overboard and throwing of headachey fusel alcohols. We'll see. But, as a compromise, I think I am going to dry-spice five gallons of the batch. Right now I am leaning towards black pepper and sage, could be good, could be really interesting, could make a great marinade.
I'm not going to say too much about BCTC because there is already so much you can find on the internets, but I will say it is definetily my favorite beer fest of the year.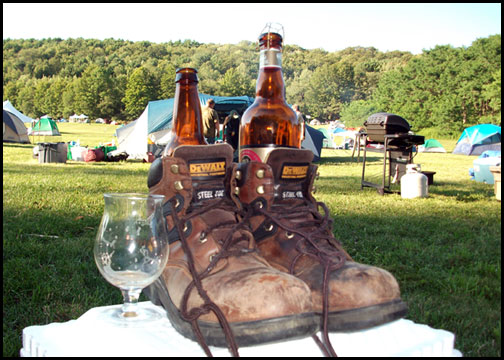 That's probably the most non-representable picture from the even, but it was at out neighbors camp and struck me for some reason, I think I like the contrast between the construction/motorcycle boots and the 750 bottles and glass, dunno. Anyway, this was a great year once again. A weekend of like minded people camping out at a brewery in Cooperstown, NY enjoying themselves and each other and as much dank beer as you could ever possibly want. We arrived Friday and our volunteer shift wasn't until 5PM on Saturday, so we had tons of time to relax and enjoy ourselves. Friday was a lot of wondering around visiting different people and shooting the shit while enjoying great beer. We actually missed our Axis Mundi crew who were MIA this year, so, sorry not to see you Rob, Kasey, Natalie, and Rick. We actually rocked out Sly Fox 113 IPA cans all weekend. It's a great beer, in cans, and the hops are a nice contract to all the Belgian love that's floating around. Saturday was more of a chill out at the camp site kind of day, which is great too. We acquired a shade tent this year which was a huge benefit, and we camped in a great area with great neighbors. The actual tasting started at 3PM, so we were able to taste for two hours then volunteer for four hours. Lots of great beers per usual at the tasting. Our shift this year was ice/water duty, it was pretty easy. We honestly tried to help and fill as much as possible, but in the big picture most of the breweries were good at this point so instead it was more like (us) 'do you need any ice or anything?' (them) 'no, we're good, do you need a beer?' So there was a lot of getting to know the people you were trying to assist involved, pretty cool. Saturday night came quick for me and I was in bed early, but it sounds like the Saturday camp ground was great again, and Ommegang showed Caddy Shack on the big screen in the field, nice. Sunday came and went before we knew it and we were on the road making it home in just over five hours with no traffic and minimal rain, which I think is a record. Regardless, once again BCTC was a success and I would imagine I'll be there again next year.