MacRae Scottish Heavy Ale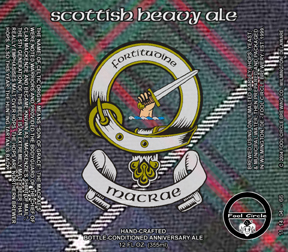 Brew Date:
11/14/2004
Batch Number:
66
Type:
Scottish Ale - Heavy 70 / Strong Ale - Old Ale
Alc Percent:
7.50%
Awards:
1st Place in the 19A. Strong Ale - Old Ale category at the 1st Annual B3 Forum Homebrew Competition on February 12, 2005.
Best B3 Beer Kit Brewer for the Hunting MacRae (Kit 201 - Scotch Ale Extract).
3rd Place at HOPS BOPS XXII on April 16, 2005 in category 19A. Strong Ale - Old Ale.
Bronze Certificate winner in the 2005 National American Homebrewers Association (AHA)competition.
*Advances to the second round of the National AHA competition (*per a miss judging.)
Notes & Comments:
(side bar) "The name, of Celtic origin, means "Son of Grace". The MacRae's were noted warriors and provided the bodygaurd of the chief of clan MacKenzie and became known as "MacKenzie's Shirt of Mail". The 5th generation of this beer is an extremely malty beer that really emphasises malt over hops. The hops are Northern Brewer hops. Also this year, the Hunting tartan is back."

Brewed in honor of the anniversary of the beginning of Fool Circle at or around my birthday of November 23rd. This beer is always well recieved by the Fool Circle masses, and hopefully this year as well recieved by the local brewing community in competition.

Tasting Notes:
Appearance: actually "cascaded" after pouring. bruised-cherry in color with hints of sunshine around the edges. nice two finger off white head that formed but disappeared after a few sips.
Nose: sweet. wheaty, cereal, sugary.
Taste: sweet. almost sticks to your teeth malty sweet, one can actually lick there lips and retaste the sweet ale. a little bit of alcohol and astringency on the tail end.
Mouth Feel: slick, smooth, a little low in carbonation.
Overall: maybe a bit young. this beer is pleasantly sweet yet with a quite "puckery" aftertaste. I would hope that a few months of aging may inprove this Scottish Heavy Ale. possibly too "big" for style.

I think this year I am going to also enter this beer in the 19A. Old Ale category, it seems to fit most appropiately by discription, OG, SRM, & IBU. We'll see if that helps in competition. Except that it is not an old ale, it is still quite young. BJCP Guidlines - 19A. Old Ale . Or maybe in the 9E. Strong Scotch Ale category, it is what it should be, but it's lacking charcter BJCP Guidlines - 9E. Strong Scotch Ale .