Red Card Ale 3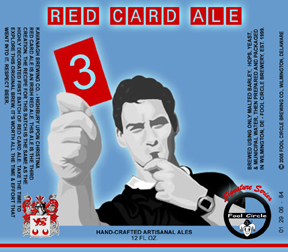 Brew Date: 01/29/2006
Batch Number: 84
Type: Irish Red Ale
Alc Percent: 0.00%

Notes & Comments:
Sidebar: Kavanagh Brewing Co. - Highbury Upon Christina
Red Card Ale is an Irish Red Ale. This ale is the third creation. The recipe for this batch is the same as the highly decorated first batch of Red Card Ale. Take the time to explore this original brew, it's worth all the time and effort that went into it. Respect beer.

This beer was brewed almost exclusively to be entered into the MCAB VIII. This is a national event that one has to be qualified for in specific events. I was qualified, and then by a mistake in rules that did not previously exist, became unqualified. Now I am only allowed to enter (for free) to have my beer judged, but not win anything. But, if the beer would have come in first, second, or third in its category, they will give me a "honorable mention" title, basically admitting their failure to have said rules in effect prior to the situation occuring.

I will probably never brew this beer again. Mike, this one has unofficially become your beer to brew on your own now.

I am not bitter.