Like minds brought together through BeerAdvocate.com and a love for local, craft, micro, homebrew, belgian, specialty and all other forms of wonderful beer. BIF20 (Beer-It-Forward #20) is a little different then the typical BIFs. This one is a race between two teams, both starting and ending with the same person and circling (more like zig-zagging) through 12 other people as fast as possible, but at the same time trying to accumulate as many miles as possible, and share new and distict beers – quite a lot to think about during a "fun" race between two very competitive teams of face-less team mates. The two teams are Team Dexter & Team Sinister – I'm on Team Sinister! You can follow the progress of BIF20 here at this website.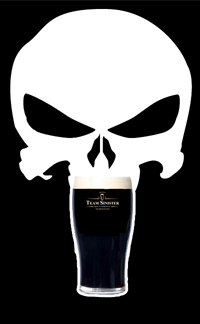 I was fortunate enough to recieve a sick package from Mentor, in Iowa, containing:
One Windy City Suds local beer newspaper
One Millstream Brewing Co. pint glass
12oz. Bard's Tale Beer Dragon's Gold – Golden Sorghum Lager
12oz. John's Generations Whita Ale – Millstream Brewing Co.
12oz. Maifest Lager – Millstream Brewing Co.
12oz. MacTarnahan's Blackwatch Cream Porter
12oz. Pere Jacques – Goose Island Brewing Co.
11.2oz. Sahtia – Lammin Sahtia Oy
12oz. Robert the Bruce – Three Floyds
750ml Oro de Calabaza – Jolly Pumpkin (from DEXTER, MI)
22oz. Dark Lord Imperial Stout – Three Floyds (most SINISTER)
I also was speedy enough to turn the package around the same day I got it and sent a pretty nice package to Babydoc, in Kansas.
Obviously, I went a little crazy over the Dark Lord – I've only wanted this beer for over a year now, go figure.