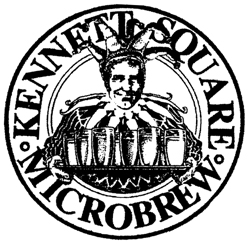 Yesterday was the 8th Annual Kennett Square Brewfest, what a great time! It rained alot yesterday, but they were lucky enough to have tents this year. The tents kept us dry, but they also really trapped in the humidity. I think they also compacted the crowd making it feel much busier than previous years. Or, maybe it was much busier than previous years!
The beers were great. My inparticular favorite was the Oaked Arrogant Bastard from Stone, the Old Percolator from Stewart's, and the Triple H from . . . Cricket Hill, I think. After the fest we went to eat dinner at the Half Moon Saloon. What a great little beer bar/restaurant. Unfortunetly, I wasn't drinking anymore beer at this point and the service was horribly slow last night. But, we did have good company – it was myself, Karen, Jody, Dave, Richard, Ann, Robert & Heather.
Can't wait till next year!