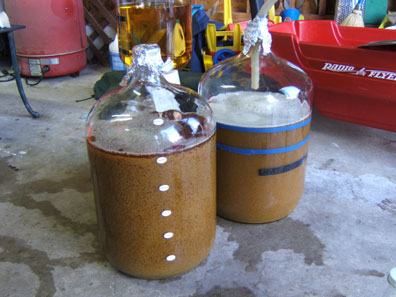 YIKES! What did we brew? Why of course it's the GNARLEYWINE! When you brew a monster barleywine that takes 9 hours, looks this "pretty" and has an original gravity of 1.111, what else could it be called. This will be one strong mama bittered and aromafied with all glorious American C-hops, with no Cascade (thank you very much!).
Garrett and I pumped out this puppy in his garage on Sunday while anticipating rain that never really came until the very end. It was a great day, we sampled the 3 beers he had on tap: an Oktoberfest, a super-charged Amarillo Pale Ale, and a Robust Stout and also tried 6 American Barleywines to help us have pretty little hop dreams. We tried: Fred from the Wood, Bigfoot, Blithering Idiot, Old Horizontal, Old School Barleywine and … one dipped in wax that I forget it's name. Regardless, all delicious all different interpretations upon a style. Next year we've discussed brewing an English Barleywine.
We also had enough sugar left in the grain to pull off 5 gallons of 1.035 wort to can as starter wort. After the long brew day Garrett volunteered to can it all by himself while watching the kids the next day. I got an email at almost 1AM saying he had finished, doesn't sound like fun – thanks for going the distance.
All in all I can't wait to try this one, though it may not be for many months!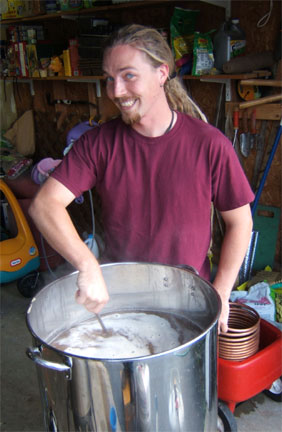 (Me. Since I'm never in my own pictures.)