So today I worked on a small project that I have been putting off for quite some time, like over a year.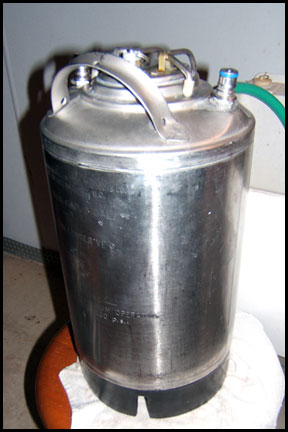 Back in October of 2006 Garrett and I brewed a 10 gallon batch of American Barleywine called the Gnarleywine. The brew day was long, the grain bill was large, and we used a ridiculous amount of hops. But between the high alcohol content and the extended time in secondary, this beer NEVER carbonated. I probably could have added some bottling yeast to achieve carbonation through bottle-conditioning, but I didn't.
So, Garrett let me borrow a 3 gallon keg he has so that I could play with the Gnarleywine to see what I could do. Initially we had thought about reverse-counter-pressure filling in the sense of sending the beer from the bottles to the keg under pressure in a closed environment, carbonating it in the keg, and then filling the bottles with the counter-pressure filler. Seemed like a lot of work to me. So instead I basically cleaned and sanitized the keg then slowly poured the bottles down the side of the keg under a blanket of CO2. I'm sure I oxidized the piss out of the beer even though I was being very careful, but better to have a chance to drink it under better conditions than not at all. I also added a small amount of vodka infused with Madagascar vanilla bean and Wild Turkey bourbon that had been steeped on oak chips. Why not try and make a whole new beer out of it? I was contemplating putting some hop pellets in a bag in the keg, but with my luck with hops and kegs I decided to avoid it.

So right now the keg is carbonating. I haven't decided if I am going to leave it in the keg and put it on tap or if I am going to use the Beer Gun and bottle it. It'll partially depend on if Garrett needs the keg back (sorry I've had it so long). A weird thing about this keg was it had this weird little plastic dip tube on the gas side. I had never seen anything like this before. I'm sure it works fine, I've just never seen anything like it. It's funny, I really like these small "half batch" size kegs, but they are expensive and rare. Usually most places don't have them, and the ones that do they sell for around $100 used, ouch!