So on Monday I got to do a little brew maintenance that was supposed to get done over the weekend. Well, weekends have a way of running themselves, so things got done on Monday. I bottled the Stainless Pale Ale or PA3 and transfered and dry hopped the SAW (Simcoe, Amarillo, Warrior) Pale Ale or PA2.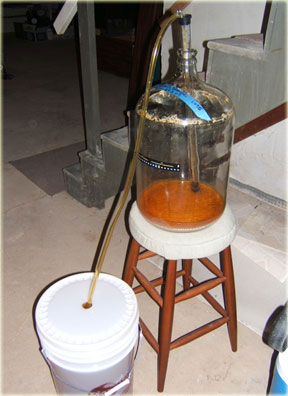 The bottling went pretty well. I got a full 2 cases out of the batch plus dumped a little bit. This is the beer that was made from the More Beer Stainless Brewer brew kit, that was sort of a secret recipe. Basically, they gave some of there best brewers (first, second, and third place winners) an opportunity to see who could brew the best beer with the same ingredients. Well, every single little thing that you do differently than someone else changes the beer. It will be interesting to see how they judge this one. I should be able to mail in my entries before the deadline. Right now the cases of beer are in the warm room (computer room) coming up to carbonation.
The transferring  of the SAW Pale Ale worked out OK to. Recently I had purchased a new siphon for this kind of application, a 1/2″ East Siphon which is suppose to work better than its 3/8″ inch younger brother (which I already have). So I cleaned and sanitized both siphons just in case there was a problem with one. Well, I started with the 1/2″ and I couldn't get it to get going, it was as if there wasn't enough initial beer to pull the siphon through. So, I reverted back to the 3/8″ and did everything as usual. I hate when you try to upgrade equipment, try to be pro-active, and its not even worth the trouble. I threw in the dry hops and let this baby chill down in chamber two.
So far the Stainless Pale Ale is bottled and ready for the More Beer competition, and I have four beers lined up for my first kegging experiment. The Oaked C-Hop Pale Ale, the SAW Pale Ale, a Hazelnut  Brow, and a Belgian-esque Witbier wheat-thing. Anybody want to guess when the kegs will be tapped? More information on that to come!