So tonight I accomplished four beer related activities, three of which were homebrew related. I drank the growler of Rhode Island Blueberry Ale from Coastal Extreme Brewing, I made a started with WLP550 to brew a Tripel this weekend, I de-labeled and sanitized two cases of bottles to bottle the small beer from the Imperial Stout this weekend, and I transfered the Linvilla Hard Cider and Vader Imperial Stout to secondaries.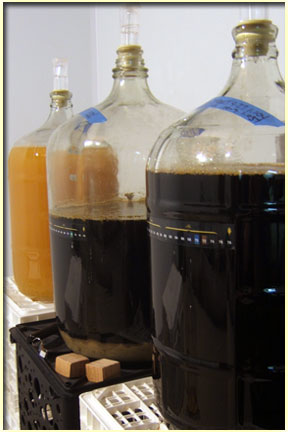 I've been dying to crack into one of the growlers from RI sometime this week. Always a concern with growlers is 'how fresh will it be for how long?' Fortunately I have had good luck with storing growlers. I always arrive with clean and sanitized growlers, I try to use the plastic lids which I feel you can get a better seal on, and I try to use electric tape to seal the outside of the growler if I know it is going to be more than 24 hours before I drink it. I split the growler of the RI Blueberry Ale with Karen tonight and it was pretty good. Her remark was it tasted like a blueberry breakfast bar – sweet, blueberry, and grainy – I couldn't agree more. After about the first pint the beer really began to grow on my, kind of like the blueberry version of #9 from Magic Hat.
Originally I was hoping to brew the long anticipated second beer with Dave, an Oatmeal Honey Stout – Zog's Grog Uncle Tupelo Honey Stout. But with the way the world works it was still not meant to be, yet. I think the original beer with Dave we made was like in 2004, geez how the time flies. Come on, Dave, we should at least make this annual  ;-). So instead after I realized that wasn't going to happen, I made a started of WLP550 – White Labs Belgian Ale – to brew a Tripel this weekend. I don't think I've messed around with Belgian-style beers since the old Double Dubbel trip and haven't messed with a Tripel in particularly since 2002.
I also realized it has been about three weeks since I brewed the Small Beer and the Imperial Stout and I knew I just had to bottle the small beer. With a beer that small/young/fragile I really probably should have bottled it last week, oh well. At least now the bottles are clean and sanitized and ready to go. Hopefully Saturday morning the deed will get done, but we'll see.
Also I transfered the Imperial Stout and the Hard Cider to secondaries. The Imperial Stout dropped just a smidgen to 1.035, still a little high, but it actually tasted pretty good. I'll probably leave this beer alone to age to at least the beginning of December in preparation to bottle and serve between Christmas and New Years (estimate, fingers crossed). The Cider should be finished fermenting, it's SG was at 0.0996, quite low honestly. Last time my Cider finished higher than that (0.0998) and was bone dry and quite un-apple-licious. This time I tasted the sample and it was kinda-appley and sorta-sweetish. So who knows, the numbers don't always tell the truth. I'll let this one sit in secondary until at least November in anticipation of bottling and serving for Thanksgiving. We'll have to see how that goes. I still have a trick up my sleeve to help this bad boy clear if it decides to be difficult.