Yesterday I brewed another Belgian-style beer, this time I am just calling it an "Abbey Ale" for now. Belgian-esque with no true BJCP guide to match it to. Hopefully reddish, spicy, and lower (6%) in alcohol then the other Belgian brews I've done.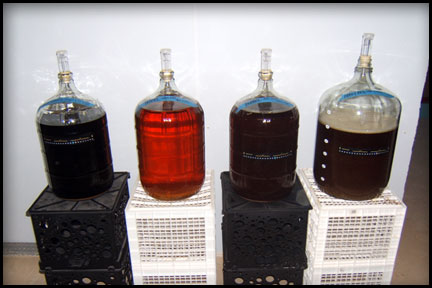 Vader, Tripel, Dubbel, Abbey Ale
I've been on a Belgian beer kick recently which is humorous to me for a few reasons. One, I haven't brewed any Belgian-style beers (not counting 2007) in years, and now three back-to-back. Two, often people choose to brew Belgian-style beers in the late spring and summer because the yeasts that are used are not as temperature sensitive as most yeasts and still work fine (some say better) with a warmer fermentation. Plus it often takes several months to age a Belgian-style beer before it is ready to be drunk, so if you brew in the Summer it would be aged properly by the Fall or Winter when you'd like to drink them. And three, I sort of brewed these "backwards". I say that in the sense of I used the same yeast in all three batches (WLP550) and flipped the yeast from one batch to the next. Most times you would go from your weakest beer to your strongest beer alcohol wise, instead I did the opposite to help try and preserve the color of the Tripel. Knowing that the yeast will carry over a small amount of color from previous batches, and knowing that I really wanted my Tripel as light and golden as possible (though it looks reddish/amber above), I chose to start with the Tripel. I had debated doing the Abbey Ale next to avoid any color carry over from the Dubbel to the Abbey, but instead did the Dubbel second feeling as though the yeast would be more in shape to handle the Dubbel coming off of the Tripel. Dunno . . .
You figured I brewed the Tripel 10.20.07, the Dubbel 11.22.07, and the Abbey Ale (12.9.07) won't be ready to transfer to secondary probably close to 12.23.07, so that is about two months that this yeast will have been "on beer" between these three beers. Hopefully that'll mean that they are nice and strong and not weak and burnt-out. Hey, if the big guys can do it why can't I?