Let's take this one back to December of 2004, maybe even before that, that's how long this beer has been in the making.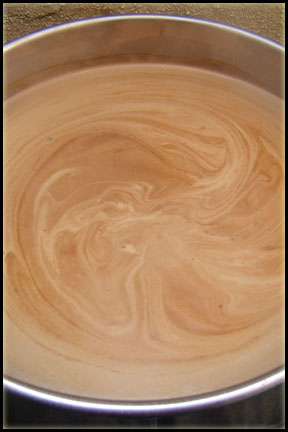 Back in December of 2004 Dave made his first homebrew with his own equipment, an Amber Ale. Since then he has wanted to do a joint brew that he dubbed (originally) the Uncle Tupelo Honey Ale. He wanted it to be a stout with a lot of honey in it if I remember correctly. Richard even bought him ingredients to make the beer as a thanks for trying to set up Richard's original website. Well, the website was never used nor the ingredients to make the beer. So I bought fresh ingredients to make a Honey Oatmeal Stout. If Dave brewed it with me, it would be his (three years plus after the fact), if not I would have a homebrewed stout ready in time for St. Patrick's Day – win-win.
OK, enough of busting Dave's balls, onto the beer. So we started around 9:30ish and wrapped up a little before 4PM, pretty average brew day. This was Dave's first time helping with an all-grain batch so I tried to let him help as much as possible with everything before the boil. So I had Dave measuring the water, measuring the grains, milling the grains, mashing in, moving several gallons of very hot water around, you know all the fun crappy stuff. I think the only two delays (which weren't major) were that we over heated our mash-in water and ran the boil about ten minutes longer than it was supposed to go. The over heated water was no big deal, we just took the lid off the kettle and left it outside to cool down while we took a break and had coffee and bagels. Similarly, the ten minute over boil was no big deal, I actually chose to do that because I was waiting for Dave to come back from running out to get lunch and he took a little longer than I anticipated and I wanted to wait for him so he could add the final hop addition and the first addition of honey. We'll also be adding more honey tomorrow or Tuesday directly to the fermenter to hopefully preserve as much of the honey aromas and maybe some flavors too. Honey is highly fermentable so it is actually quite difficult to get any honey characteristics to carry through to the finished beer. But overall the day went great and I think Dave had a good time, we should try to do this more often then every three years!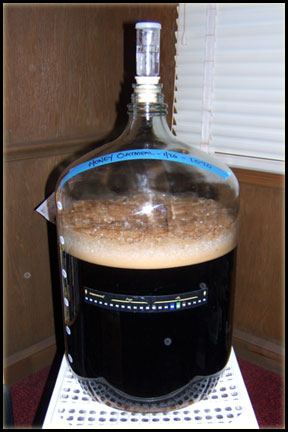 I tried lightly to convince Dave to add a small portion of coffee to the stout to have a full on breakfast stout thing going on, but it didn't happen. I think between some of the roasted barley and chocolate malts that are a part of the recipe it will have coffee-like characteristics anyway. Can't wait to try this one!