Yesterday, 02.24.08, my brother Dave came down to help me bottle the Honey Oatmeal Stout that we brewed together about a month ago.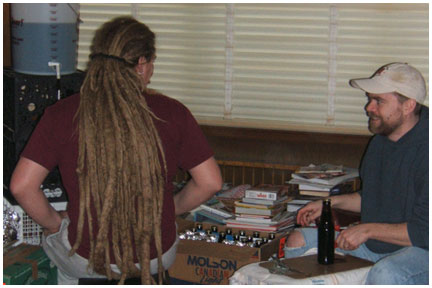 Everything went fine, so there really is no worries for this beer. As long as there are no carbonation problems then this beer will be ready for St. Patrick's Day without any problems, so look out for the Uncle Tupelo Honey Stout (or whatever Dave winds up naming it). We of course sampled the beer while bottling it, remember this is a warm, young, and uncarbonated version, but I thought it was pretty good already – mostly full bodied, a little sweet, some roast bite in the back, a little honey aroma (mostly just floral) and a wish of a honey flavor in the finish (but it was there). We'll see if the carbonation and chilling will kill any residual honey contributions, but overall I think we'll have a solid stout on our hands.
What's next? You got me. I'm about to re-up on ingredients and have nothing lined up so anyone with suggestions of new beers, repeats, or wanna-be Signature Series fire away!