Zymurgy's 2nd Annual Gadgets Issue.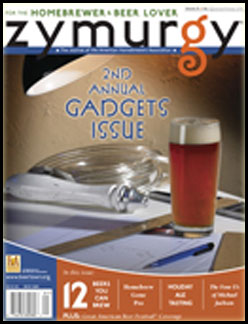 For whatever reason, I basically was not interested. I realized by flipping through this zine that this years National Homebrew Conference will be in Cincinnati, Ohio June 19-21st. Hummm, maybe we'll have to see what kind of information they post up, that could be a good time.
One of the first gadgets / tricks in the magazine was a very simple yet smart idea on how to get better efficiency from your kegerator / beer fridge / converted freezer. Basically instead of just letting the temperature probe read the ambient air temperature inside the box, let it read the temperature of liquid like your beer. They suggest submerging the probe in a sealed vial of liquid (ie. – a White Labs tube) and suggest that this will allow the probe to read the temperature of liquids inside the box instead of the air inside the box, which the air will change more easily. Sounds smart to me.
Later was an article on the Great American Beer Festival, damn it I want to go! Honestly, without plans, I think 2009 to return to Colorado after 10 years and happen to catch the GABF sounds like a really good idea to me. They also talk about the Pro-Am competition they run during the festival, 2008 being the third year. Both years I have thought about asking a local brewer about doing something with this, but I don't know, I just . . . don't. Maybe this will be the year. Basically the Pro-Am competition is a Brewer's Association brewery / brew pub brews an award winning American Homebrewer's Association members homebrew on there full-size system and enters it in the Pro-Am category against all the other Pro-Am beers at the GABF. A local guy in PA with Bethlehem Brew Works actually brewed the gold medal beer in 2007, an English IPA.
Other than that the magazine was basically fluff and didn't interest me, until next time.