Wow, one year of BYO/Magazine reviews. Good thing I have all the extra time to read the magazines, and then type up my opinion, sheesh…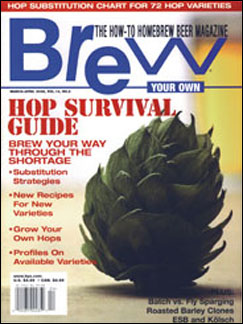 Cool cover by the way. Anyway, I know this is a little weird, but the ad on page 7 – SOLD! It is for the new Blichmann BoilerMaker brew kettle/mash tun and it is sick, and sick expensive. New metal homebrew wet dream for me, – now get that imagery out of your head, gross. Mr. Wizard's article touched on specific specialty grains and I thought it was cool, but I wanted more. It is one of those questions where I understand the descriptors used to explain what a certain grain will do to my brew but I'd rather understand the grain, not just the descriptors.
The article 'Hop Survival Guide' by Chris Colby (good job Chris on this one) was pretty good and covered a couple different aspects of our 2008 hop crunch. There was hop substitutions presented, hop charts, new hops, and growing hops – that's a bunch! The Homebrew Hop Guide center-fold was pretty useful if your looking for a quick reference on hops, I believe BYO has it posted on their website. And the Hop Growing article was short and sweet, though reminded me I need to be on top of my stuff this year for planting hops (and thanks to Garrett for the reminder too).
A couple pages later there was a neat idea for an article that fell short with no real numbers. Normally I am not a numbers guy for homebrew stuff, but some numbers would have seriously helped this article on the differences between batch sparging and fly sparging and the benefits and down falls of each. He basically explained it in words, which is fine, but I can read books too. I would have rather he said something along the lines of I brewed 10 batches and this is what my results showed or something.
Other than that I kind of drifted through the rest of the mag falling to slow down only on the short article of a fun sounding homebrew club up in Oxford, PA, the LCD Brewing Co. Until next time.