So I guess this is the follow up of what's happening with the Fool's Gold, the first chosen beer to be on tap.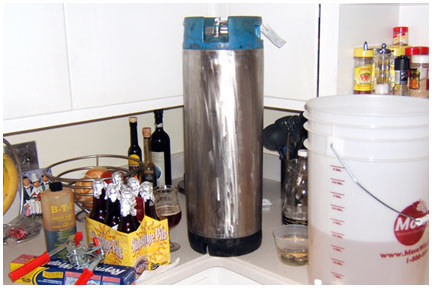 So the Fool's Gold was the first beer I put on tap, I thought it appropriate with my name in it (Fool) and some positive affirmation action (Gold) – – or something like that. Anyway, to no big surprise to me, I was having constant trouble with this beer on tap. It was a slow pour, it was foamy, the faucet was having some trouble, it wouldn't pour at all, you know all sorts of newbie issues. Sure I was a little pissy and a little disappointed thinking there was something wrong with the kegerator, but I was willing to accept there would be a learning curve. One thing I really wanted to do but never got the opportunity was to play with my new Beer Gun and pull off a few bottles, partially just to do it, and partially to put a few aside for the 6th Fool Circle beer tasting (whenever that finally happens).
Well, I put a second keg in the kegerator last night to put on tap today to see if the pour problem was an obvious kegerator or keg issue, or obvious at all. I cleaned out the line and put keg number two on tap, the RYPA. It poured, period. It was foamy, and a little wild also, so I may have both kegerator (balancing) and keg issues, we'll have to see. So I pulled the keg of Fool's Gold into the kitchen and basically said "F-it" and decided I was going to bottle what was in the keg the "normal" way or at the least dump out the contents and see if I could tell what was happening.
The beer poured out with mad sediment, I was actually quite surprised. I guess I transfer more hop debris than I realize after dry hopping, yikes! I know I probably oxidized the hell out of the beer and knocked out most of the carbonation, but screw it, I've got five bottles out of it – waste not want not – if it tastes like ass I'll dump it. After seeing how much debris was still in the beer I was guessing that I may have clogged the out-spout, which I actually had guessed since the beginning that it could have been a partially clogged spout causing some of the foam and the slow pour.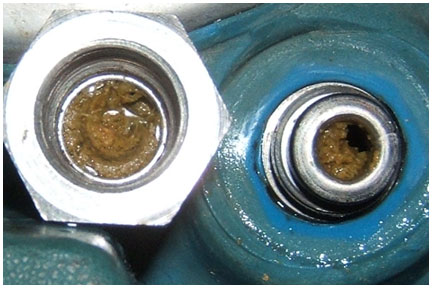 So I took the keg down stairs and began cleaning it and taking it apart. What I found was one clogged-as-shit out spout. There goes my ideas about keg hopping, well except maybe with whole hops. Speaking of which I may need to switch to whole hops for dry hopping too. So the good news is that I definitely had a clogged keg which I will say was why the pour stopped on the kegerator. The other problems (foamy, slow pour) I'm not sure if they were directly related. But the bad news is that I just discovered that you really need to be careful with transfers, and I have five other kegs awaiting to be drank before I realized this, ugh. Off the top of my head I know three of them were dry hopped, which may be my down fall. We'll have to see how this all pans out. More news at eleven 😆 .