Recently back from our third year in a row of celebrating New Year's Eve at Dogfish Head Brewpub.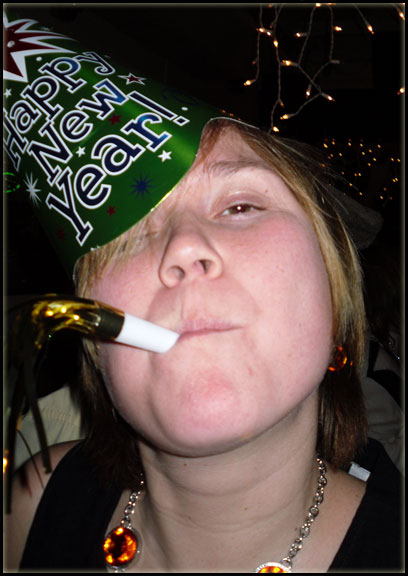 (This picture just seems to capture the New Year's vibe)
You can click here to check out the rest of the pictures.
Per usual DFH put on one hell of a party! For NYE DFH has two dinners available, an early seating at 6:30 so you can have a good dinner, but plan your own NYE festivities, and a late seating at 9:00 so you can have a good dinner, AND plan your NYE festivities around DFH. The first year we opted for the early dinner and to go back to the beach house and do our own thing, fun, but not as fun as it could be. So last year and this year we chose to do the late seating and get a hotel room within walking distance, smart – very smart. Things were only slightly different this year than last, last year I believe dinner last year was at 8:30 and was $75, this year it was at 9:00 and was $85. The difference? I think it gave DFH more time in between the two dinners to make sure everything was straight, plus the $85 included gratuity as the $75 did not. I liked that it was included, but it makes me wonder how many of the wait-staff got screwed last year?
The menu was bangin', actually I think my favorite of the three years so far. Typically there is some course that I am not really big on, not really so much this year. Anyway, here's the menu:
Truffled Butternut Squash Soup paired with a pint of Punkin' Ale
Warm Lobster Salad paired with a 10 oz of Midas Touch
Seared Foie Gras and Lingonberry Jam on Brioche Toast paired with a 10 oz vintage Black & Blue
Prosciutto-Wrapped Beef Tenderloin paired with a 10 oz Palo Santo Marron
Brown Honey Rum Tiramisu paired with a 10 oz vintage World Wide Stout
I'll try to briefly run through the menu, but you know how briefly can go sometimes. I am not a squash kind of guy, I don't really dislike it anymore, but it is not my friend. Anyway, the soup was ridiculous, I could have eaten enough for a meal. It was paired with the Punkin' Ale which makes sense, but after about a half pint of Punkin' – I'm good. The Lobster "Salad" was my king of salad! A big pile of homemade roasted garlic mashed potatoes, with freshly steamed big chunks of lobster, a little arugala spread around with large slivers of parmesan on top – delicious. None of us had had Foie Gras before so we were all excited and apprehensive about trying it. It was OK. This was actually the course I was looking the most forward to and it was the one I was closest to being disappointed about. I would definitely like to try it again, but it wasn't a big seller for me. When the beef tenderloin came out I almost lost it. For a fourth course plate this baby was full! It was probably an 8 0z cut of beef wrapped in prosciutto (I liked this better than bacon), along with blue cheese mashed potatoes and some random veggies. I barely ate the veggies, and the mashed potatoes were great, but I had already grubbed on the ones with the lobster, but the beef, – the beef was delicious. I really could only eat half by this point, but it didn't matter. My only complaint was they were not cooked evenly, in the sense that all of ours were medium except for Dave's and his was medium-rare and tasted that much better. Oh, well. Finally the tiramisu (probably my favorite dessert of all time) was bangin'. Very well made with just enough rum for flavor but to keep it from getting boozy, I could only finish half of this also.
And the beers . . . ah, yes, the beers. We arrived at about quarter of 9:00 so we had time for a pre-game beer. Originally I tried to order a brewpub exclusive porter called Arms Akimbo Porter, but they had taken it off for the night for the special beers, bummer. So I went with a 60 Minute IPA which lasted until the beef tenderloin came out, geez. As I've already said the Punkin' was fine, but not my favorite. Midas Touch was a good change because I hardly ever buy it, mental note – buy Midas Touch more. The vintage Black & Blue was OK too, I'd rather it was Red & White, but I understand the choice for it paired perfectly with the lingonberry jam. Before the Palo Santo Marron came out I was talking it up to Dave as one of my top 3 favorite DFH beers, he was stoked to try it. When it came out he took one sip and pushed his glass over to me saying I could finish it, different strokes I suppose. Then we ended with the WWS which is always an ass-kicker. I always know it, but always forget about it. WWS is one of those beers you should drink alone, not five beers in and drinking more later. Let's just say this was the beer that made the night shift perspective, not completely in a bad way.
Also, for the second year in a row, Nate Myers and the Aces were playing. They are a blues-rock-harmonica-heavy band that randomly covers some fun hip-hop tracks, I really dig these guys. Also, they have a song called "Jager & Waffles" so you know they're good in my book! Of course we picked up the CD.
The next morning found everyone in decent shape and we rolled like we meant business. A little greazy diner breakfast followed by out traditional shot and a beer at Irish Eyes. The shot and a beer kept on expanding until half the day was gone and we were all feeling fine. A Nic-O-Boli for lunch and we were ready to call it a day. New Year's Eve has always been fun times for me, I think I enjoy the safe but ruckus NYE-style. Until next time I suppose!