So I ordered, and received some new ingredients, and I can't wait to get behind the mash paddle again!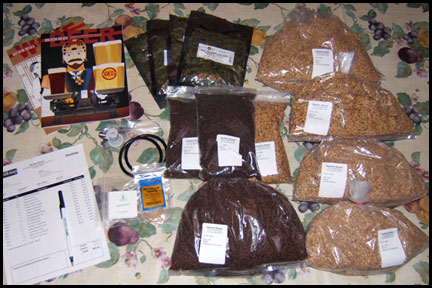 So I ordered from Northern Brewer again, whom I have been quite happy with recently. Two of my biggest complaints with the other major online company I was using was the delay between order placed and order in hand, up to and over 10 days, and almost always something small was messed up or forgotten. With Northern Brewer it is typically less than 5 days and usually they accidentally include "extra". For example, this time I ordered two gaskets for the internal parts of the quick disconnects, I received four instead, cool.
I got ingredients to make a few new batches, many of which were on my mind for this Spring to drink, but I guess they'll be good whenever. The main batch is going to be a split 30 gallon batch of Scottish 70/- Garrett and I are to brew next weekend, should be fun. I also order stuff in to make an American Brown Ale, another Pale Ale, an Irish Red, and an Oatmeal "Cookie" Stout. Realistically all of these will be ready to drink by Summer. I guess these should have been more American Wheat's, and Hefe's, and Saison's – oh well – I'll drink anything.