I think it may be, the unexpected, the unplanned, the unannounced (until now) return of the MacRae!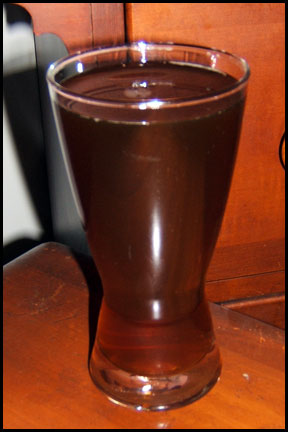 This isn't the same MacRae we all grew up and loved so much – this is a different beer. It is more like what a Scottish Heavy Ale is truly supposed to be like. The previous MacRae's were always too big, too sweet (still delicious, but out of style) – this is very much true to style.
I am slightly hesitant to call it MacRae, only because I think I may build up a Wee Heavy recipe instead and call the MacRae – but for now we have MacRae's Wee Lil Bastard – yes, yes, that's what we have!
Anyway, the beer is totally easy drinking, I think it's like 3.2% alcohol which is like water compared to the stuff I normally brew, but it's SUPPOSE to be light. This would be a great beer to have on nitro, or a hand pump, or a firkin – but alas it is only on tap – only on tap at my house (well, at least until Garrett puts a keg on tap at his house.) Regardless, it's got nice flavor, finishes dry, and makes me want to keep drinking more, it's our friendly neighborhood session ale! Swing by and try some so when the next two kegs of doctored Scottish go on tap you can compare.