So yesterday my buddy Garrett and I brewed a beer that's been dubbed the Harvest Ale, a Pale Ale brewed with all fresh hops!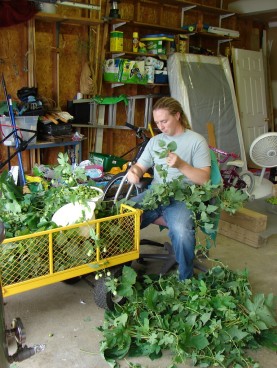 We decided on doing a 10 gallon batch as this was TOTALLY an experiment, and 10 gallons would give us each 5 gallons at the end of the day. This was a total experiment because neither one of us had ever used fresh hops, there was no way of telling what the estimated alpha acids or IBUs from the hops would be, and hell, we didn't even know if we were going to have enough hops for the experiment in the first place. In all honesty we could have basically made a "lawn clipping" beer by accident.
And let me just tell you, these hops were F-R-E-S-H-! Literally Garrett cut down the bines an hour before I arrived and filled a utility wagon and we began picking right away. Of course it had been raining all morning and we were a little unprepared for the excess water on the cones so Garrett came up with the idea of laying all of the hops on a screen with a fan on them to help surface dry the hops, nice. Our recipe called for a total of 20 ounces of fresh hops which we think translated to about 4 to 5 ounces of dry hops, which for a 10 gallon batch seems about right for a non-super hoppy beer.
So, why all the fuss with the fresh hops? Well, fresh hops are literally only available (in the northern hemisphere) once a year, so this could only happen when it happen, that alone makes it special. Also, the longer hops are handled and aged the less potent they and you lose the sensitive volatile oils that can't hold up to it. So, there hops were literally like three hours old when they hit the kettle, they were picked by hand (versus machine) and were used in every aspect of the recipe. By using them throughout we know we destroyed any delicate compounds with a 90 minute boil trying to achieve our estimated bitterness level, but we mostly late hopped which will help preserve the sensitive material.
One funny thing that happened during the brew day was we WAY over shot our OG some how. We were aiming for 1.055 and hit 1.066, huge difference. Not that I'm concerned, though the hop profile may appear diminished, it just is big, it's like 85%+ efficiency, and that's pretty much even if I accidentally over weighed the grain by a pound or so. Anyway, this should be a pretty exciting beer to keep your eyes on to try and grab a taste when it is on the kegerator. Even compared to commercial versions, there is nothing else like this available, this is the freshy-fresh!