So this evening was spent pushing beer from one container to another.
First, the Twenty Pound Pale Ale had to be moved from the primary fermenter to the secondary and get a dose of dry hops, 1 oz of Centennial to be exact. I also moved the beer from upstairs to downstairs where the warmer temp upstairs is preferable during this time of the year to help with primary fermentation, the cooler temperatures downstairs will benefit the beer clarifying. It weighed in at roughly 5.5% alcohol, and pretty balanced, yet slightly malty as of now, so the dry hops should move it towards very balanced. Most of my pale ales are aggressively hopped, this one, not so much.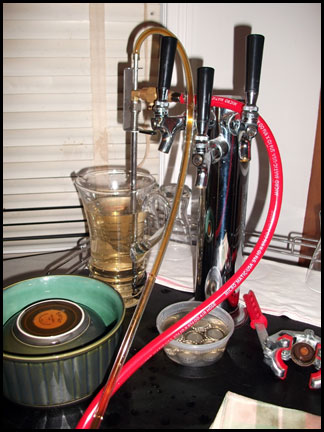 Next the Dubbel and the Chinese 5-Spice Dubbel needed to be bottled. I pulled 5 bottles of the Dubbel and 9 bottles of the 5-Spice, kind of weird numbers now that I think of it. I'm going to leave one of these on tap for now, not sure which, but I am leaning toward the traditional Belgian-style Dubbel, and the other I am going to reserve. I was thinking about it earlier, it's been since like Christmas since I have had 3 beers on tap at once, I need to remedy this. So I'll reserve one of the Dubbels, then the Pale Ale will be ready to roll in like two weeks, but that's it. So I guess I'll need to brew again soon, and often. If things go right I'll be re-upping on base malt shortly so it'll be time to get my brew on, anyone have any suggestions, I'm open!