So yesterday McKenzie's Brew House announced the winner to their little homebrew competition they recently had.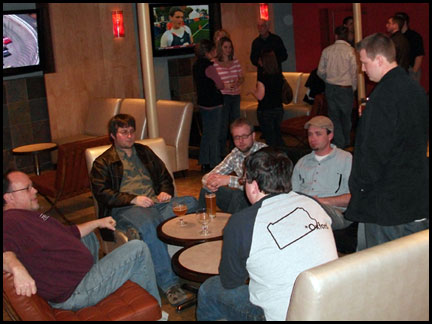 The competition was pretty quiet from what I can tell, I can't even remember where I heard about it. But the entry deadline was February 15th and the only real criteria was the beer had to be described as "Belgian". "Out of style" Belgian Specialty ales were highly encouraged. From the impression I got there were maybe 20 entries, like I said pretty small.
I decided to enter my Chinese 5-Spice Infused Belgian-style Dubbel, AKA Chinese Dubbel, AKA Dubbel Dragon (thanks Erik). I figured the base beer was good enough to hang, the 5-Spice contribution was definitely "out of style", and the beer itself is actually pretty good. Now that I've had a few to drink it reminds me of a cross between a Winter Warmer and a Belgian Dubbel, makes sense to me. The beer also starts off very well balance, yes spicy but not overwhelming, though as the beer warms the spices do come to the forefront.
So yesterday, Sunday 03.07.10, McKenzie's had a small get together/thank you for the brewers that entered and they were going to announce the winners. It was suppose to start at 4 and started just after. They had all of the house beers, plus the regular seasonals, plus they had their award winning Saison available plus a barrel-fermented (not barrel aged) version of the Saison too, there had a little bit of Heywood-toe up in that beer ;). On top of that they also put out a spread with appetizers; wings, hummus, bbq beef – it was nice.
So, I'll say I didn't place now, though they did announce a top three winners, even though they had only mentioned there was going to be a first place. The winners were a Dubbel, a Tripel, and a Belgian Strong Ale which took first. Not that I'm complaining, I'm just pointing out the lack of "out of style"-ness of the winners. The very cool part was the winning brewer and recipe will get to be brewed on McKenzie's system, nice.
I'll wrap this up with some notes from the judges, honestly only pretty good stuff to say, but anyway here we go:
Judge 1 "Alcohol is well hidden and base beer seems beautifully executed, but it's hard to tell with all of the spice character."
Judge 2 "Great base beer, very well made. Yeast fruit and spice marry well with carmely vanilla like malt character. For me, the spices add great complexity, but tend to dominate a bit too much."