Sunday, January 16th, 2011
Couple nice little beer side trips this weekend; an excessive amount of sour beers and a visit with the POPE.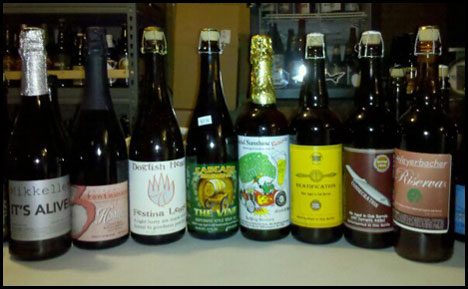 On Friday Guy had invited a nice group of people, maybe 10 people, over to his house for a sour beer tasting. Now many moons ago Guy used to be a BMC kind of person, now he's probably on of the biggest beer geeks in the area with a cellar and beer trading reputation that will put most peoples to shame. So when I got the invite I knew there was going to be a lot of gems available that night, very generous indeed. To contribute I brought a Bottleworks Deviation IX and an original batch or '07 Ommegang Ommegeddon. On top of that, there were 30 other sour beers, 32 total, most in 750ml bottles. I'm still waiting for an official list from Guy, but just from the one picture above you can see what kind of stuff we were getting into: Mikkeller, '03 Festina Lente, multiple Russian Rivers, '07 Riserva … many a sick beers. I think overall my favorites were brewer by The Lost Abbey and Russian River, these guys crush some sour beer love. I didn't take any notes because I just wanted to enjoy myself, and after I receive the official list from Guy I may add some mental notes on specific beers, but as of now hear are some of the comments I can remember (paraphrased): Smells like stinky feet, tastes like grand-mom, smells like olive brine, now this one is funky like Herbie Hancock funky, needs more barnyard to be rounded out, definite baby diaper in this beer, like chocolate soaked in sick, balls deep in this beer, it smells like fruity pussy (said by a female), I think this beer was strained through a used sweat sock … And yes, we liked all of these beers, even with those kind of descriptions. Big thanks to Guy for the generosity and hospitality!
Edit – Here's the list of sour beers Guy sent over, very nice:
Temptation
Supplication
Sanctification
Consecration
Beatification
Deviation
Sinner's Blend
Cuvee de Tomme
Red Poppy
Bullfrog Liquid Sunshine  Reserva
Weyerbacher Riserva
La Folie
Mikkeller It's Alive
Panil Barriquee
Upland Peach
Ithaca Brute
Bruery Oude Tart
Avery Sui Generis
DFH Festina Lente
Ommegeddon
Drie Fonteinen Hommage
Portsmouth Flanders Red
Captain Lawrence Rosso e Marrone
Captain Lawrence Cuvee de Castleton
Cascade The Vine
Cascade Kriek
Iron Hill Frambroise de Hill
New Belgium Lips of Faith Kriek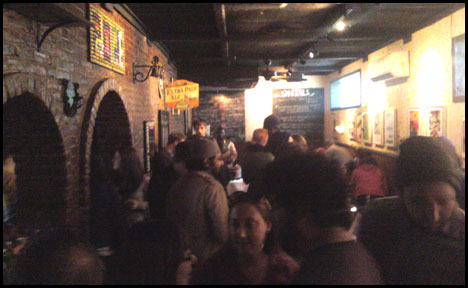 On Saturday I decided to drive up to Philly to pick up some concert tickets to avoid the wonderful Ticket Master / Live Nation "convenience" charges. So since I was in Philly I wanted to see if there was anything easy and cheap beer-centric going on so I could make the most of my time. I poked around quickly on line and saw the POPE (Pub On Passyunk East) was having their annual chili cook-off event. I have never been to the POPE before but they have a reputation of being a comfortable beer forward corner bar, plus a bunch of different chilies to taste, sign me up! So essentially it was $5 to sample twelve different chilies and then vote on your favorite. The chili was served in small sample cups, probably between two to four ounces each, so after all twelve it was a ton of chili. Most of the chilies were made in the traditional tomato base with beef, but there were of course a few twists. There was one chili that was a huge hit that was made with lamb that kicked very early in the tasting, there was another chili with breakfast sausage in it which was a really neat variation, some with more expensive cuts of meat like buffalo and pork loin, a south Philly pork variant with pork, broccoli rabe, and sharp provolone, and one veggie chili made with 60 Minute IPA. Overall I would say none of the chilies were duds, and a couple were exceptional. I did not stay long enough to see who won and I am not even sure if there was a criteria or not, but my two favorites were the breakfast sausage chili and the south Philly pork chili, both stood out above the others and were worth the risk of stepping outside of the chili box, good job. Along with the chili I enjoyed a Bear Republic Racer 5 IPA and a 21st Amendment Back in Black IPA. Overall it was a nice little pit stop in Philly and I would totally go back to the POPE again to check it out.