On Friday Robert, Mitchell, and myself went down to Dogfish Head (DFH) to do the whole brewery tour and happy hour thing. Of course I didn't realize it was the Friday of Labor Day weekend, but in all honesty it wasn't so bad.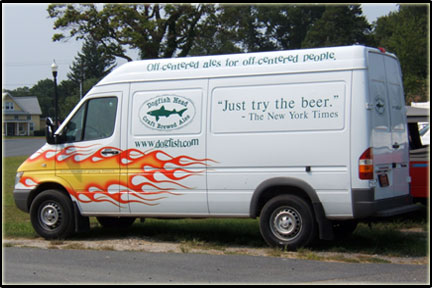 We got to the brewery just before 3PM which is what time the tour starts. Mitchell has never been before and Robert & I have been a lot, maybe 10 times. Every time we go it is amazing how much things have changed. One of the first times we went the head brewer Bryan Selders gave the tour, they were still using the old 50bbl system, they had open fermenters, and about half of everything else they have now. This time I believe it was Fred Mazzeo who gave the tour, the new 100bbl system was up, the warehouse, fermenters, bottling-line, quality control lab – everything, was just, well, just right – Cheers to DFH! Per usual they had samples to try, this time we got to taste the 60 Minute IPA (one of my personal favorites) and the new Golden Era "Imperial" Pilsner, which is a remake of the beer formally known as Golden Showers, which is sort of a remake of the beer formally known as Prescription Pils. As you may be able to guess, DFH ran into a little bit of naming issues with those last two names. I picked up a 4-pack of the Golden Era while there for $10.
After the tour we were off to the brewpub. The tour typically runs 45-60 minutes, and the brewpub does happy hour from 4-6PM. So if you take the tour and drive out to the pub (30 minute drive) you can still hit most of happy hour. Happy hour used to be $2 everything that was made by DFH (beer & spirits) and half price appetizers, great happy hour, but now it is $1 off everything (beer, spirits, and food), not such a good happy hour. On "special" at the pub they had a beer called Fluckey Fest and 90 Minute IPA pulled through Randal – nice! The Fluckey Fest was a beer that was made with 51% malted barley and 49% Chardonnay grapes and fermented with Champagne yeast. Sounds really interesting, and it was interesting, but not my cup-o-beer. Reminded me a little of the original brewing of the Chateau Jiahu, which later tasted very different in the bottled version. After adopting the corner of the bar for several hours, the general manager Jim Boyd offered us a new combination DFH has been working on. It was a glass of their Chicory Stout with a shot of their Dark Chocolate Vodka served a long side. Basically he asked us to take a sip of each separately and notice the flavors they each portrayed, then to mix the rest of the vodka with the beer and appreciate the new flavors that were brought together. It was actually really good and made me think, is DFH going to try and market this as a drink, the first vodka infused beer? Someone asked about the spirits while on the tour and they made it very clear they were not aloud to have the spirits at the brewery because the ATF was concerned they may try to make a super-infused beer and right now there is no laws or taxation concerned with that, so they don't want DFH to be tempted. Sounds like just the thing DFH will try to make happen.
I think only DFH makes people this happy and ghey!
After DFH we cruised around Rehoboth Blvd. and the boardwalk for a couple of hours, watching a little girl beat her dad at chess, grabbin' some Grotto's, and making general fools of ourselves. All through out the day, from before the brewery tour to up until two days later we began to talk about creating a tournament between the greatest front-men of all times. Yes, I know it sounds silly, and a little dorky, and way over thought, but remember who's talking here. In the beginning it was a big 64 player seeded tournament that I believe we were going to try and do that night when we got home. Instead it turned into a giant 128 player unseeded randomly drawn tournament that was crazy and stupid-fun. I think the final list had about 145 or so on it that got weened down to 128. Basically it went like this, we finalized the 128 frontmen that were to be involved. All of their names were put into a hat together and names were drawn out two at a time to see who the match-ups would be. After the initial 64 match-ups the tournament would play out like any normal tournament. We did include our own rule as to keep it interesting though.
Our rule kind of went like this, in the first round each of us were given three "power nahs" in which we were able to say "nah" to any match-up that was pulled out of the hat. If we used a "power nah" then that match-up would be thrown back into the hat to be re-pulled in a different combination later. This was typically used to keep heavy hitters from going up against each other too early. For example, if Robert Plant and Mick Jagger went up against each other in the first round then someone might use a "power nah" to throw their names back into the hat so a big decision like that wouldn't have to be made too early in the game. After the first round each of us was also given two regular "nahs" that could be used in the second, third, and fourth rounds. What these "nahs" did was basically give the loser of a match-up a second chance. The winner of the match-up had to get a 2 out of 3 vote to stay in verses the normal 50/50 chance – make sense? Click the tournament picture and you'll find the results of a few hours of us being idiots with Robert, Mitchell, myself, and later Wooly as a spectator. Now remember, none of us fully agree with this, this is just what happen when the three of us ran this tournament. It would probably be different with any three people and obviously with any random drawing. Oh, please excuse the misspelled names, I know I can't spell.