Saturday, May 31st, 2008
I received the incoming leg of a new BIF I am in yesterday, the Hip-Hop BIF.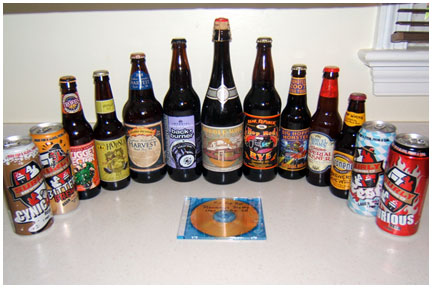 This BIFs theme, for lack of a better term, was hoppy beers and hip-hop music. Each person was to ship at least 144oz of hoppy beer and a hip-hop mix CD. I'm all about hoppy beers and I like some hip-hop (1990 and earlier preferred), so I decided to take a gamble on the music in order to get some hoppy love, and it was totally worth it. This is the 214oz of hoppy goodness wrapped up in 13 beers I received:
Boulevard – Double-Wide IPA – 750ml
Southern Tier – Back Burner Barleywine – 22oz
Bear Republic – Hop Rod Rye – 22oz
Sierra Nevada – Southern Hemisphere Harvest Fresh Hop Ale – 24oz
Terrapin – Big Hoppy Monster 2007 – 12oz
Bell's – HopSlam – 12oz
Samuel Adams – Hallertau Imperial Pilsner – 12oz
Troegs – Nugget Nectar – 12oz
Tyranena – Hop Whore IIPA – 12oz
Surly – Furious – 16oz
Surly – Cynicale – 16oz
Surly – Surly Fest – 16oz
Surly – Bitter Brewer – 16oz
And this is what was on the CD, named (by him) "Hip Hop BIF – PitMonkey's Pretty Lame Hip Hop CD":
The Gourds – Gin and Juice
The Go! Team – Grip Like a Vice
50 Cent feat Snoop Dogg, Don Magic Juan – P.I.M.P (RMX)
Sultana Erkez – Big City
Busta Rhymes – Turn It Up
Everlast – Get Down
The Go! Team and Chuck D – Flashlight Fight
Wookiefoot – Nothing
Kid Rock – Roving Ganster (rollin)
Beastie Boys – High Plains Drifter
RATM and Cypress Hill – How I Could Just Kill a Man (live)
Wookiefoot – John Henry
Big Tymers – Oh yeah
Sultana erkez – Pek Yaman
Beck – Hotwax
Wookiefoot – Can't Get a Job
Really, for me, this isn't all that bad of a hip-hop CD. Sure, I don't know half the songs, but I do know half the artists and none of them really fall into the hip-hop style I don't like. So it looks like I have some new music to listen to. I should be sending out my leg Monday or Tuesday and I'll put up another post of what goes out.