So yesterday, after all the bitch work, what do I do? I try to kill you! No, no, no, sorry about that – I brewed a batch of beer – an American Brown Ale with all Simcoe hops.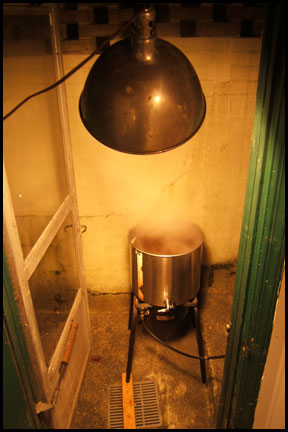 Last night was a smooth brew night with only a few bumps to get started, but I suppose that's what happens when you don't fully prepare. So after all the bitch work I took a break and determined I was going to brew. I flipped through the few ingredients/recipes for something I thought would be relatively easy with few things that could go wrong. I came across an American Brown Ale recipe that I had recently ordered ingredients for before and that Garrett and I had brewed before. I felt pretty confident that this one would be straight forward.
I planned on starting at 4:00PM, but ran into an issue right off the bat – no propane. So before anything could get started I had to scoop up the two propane tanks and get them exchanged at the store. I'm sure the clerk was just being nice, but I disliked the tone of 'so, what are you going to use those for?' I told her I like to cook outside which kind of just got a shrug, but there was a part of me that wanted to say something about running a meth lab out of my basement, but decided that could have been more trouble than it was worth. After that I went home and literally fired things up. The ingredients were already weighed out minus the base malt, I had done this when putting together the Scottish Ale ingredients, this was a nice touch and something I will do again.
I also had wanted to adjust my mill to try and get a finer crush thus improve my efficiency (currently floating between 70-72%, would like to see it closer to 75-80%).  I thought the mill was going to be easy to adjust, but I couldn't figure it out on the fly, so I just tightened things up assuming they were "reset" to where they were. Well, I think I must have moved something differently because the mill was vibrating pretty bad which isn't normal, I'll have to give myself extra time before the next brew day to review this. Fortunately the crush looked fine so I just walked away while I could. I returned to find that I had over-heated my mash-in water (a common problem for me) and had to wait for it to cool 30 degrees or so. I was hoping to avoid this problem by having my ingredients pre-measured out, but I suppose messing with the mill took an equivalent amount of time.
The rest of the brewnight whet relatively well with only one other real hiccup. About half way through the mash Robert showed up and he hung for the brewing which was a nice change of pace since I was pretty whooped-up from all the bitch work earlier in the day. We wound up playing a few games of 9 Ball too which was a nice break from just hovering over kettles and coolers and trying to will the process to go faster. When it was time for the first hop addition I went upstairs to collect the hops for the recipe and realized I didn't have them…? I don't know what I was thinking, but when I ordered ingredients for everything else, I didn't order hops – this should be interesting. I dug through what hops I had trying to find a substitution that would work that I knew wasn't slated for another batch. I came across a 2oz. bag of Simcoe and thought – this will do. So the original recipe called for three half ounce hop additions of Columbus (60), Chinook (10), and Centennial (2) – I punted and added three two-third ounce hop additions of Simcoe in the same time-frames. Yes, I know it will be different, but I also think it will still be DE-licious!
Post hops dilemma and re-commitment the brewnight was fine. We actually ordered some Mexican food from El Tapatio and Robert ran out and picked it up, so that was a nice break, but made me drag even more. Towards the end of the night, like after the flame was off and the chilling was on the tail end, I could tell Robert was getting twitchy from hanging in the basement with "nothing to do" for the last few hours, but at this point it's really a waiting game. So we chilled, transferred, oxygenated, pitched, and relocated the carboy. I quickly did janitorial duties, mostly just the wort chiller and kettle at this point. By the end of the brewnight it was 10:00PM and I was ready to be done. We had talked about going to Mitchell's for some St. Patty's hang-out-ness, but I was out and I think Robert was too. Instead we decided to watch Zack and Miri Make a Porno, the newest Kevin Smith film with Seth Rogan as one of the two leads – both people I think are incredibly funny. I thought the story was OK, but the movie had lots of laugh out loud parts for me. Overall I'd say it was good and if you enjoy KS or SR at all it would be worth watching. For me, the actor that stole his scenes was the actor that plays the "human MAC" on the MAC and PC commercials, he was hilarious.