So yesterday was only the second brew day of the year, but man was it a doozy!
So for like the past month (maybe more) Garrett and I have been talking about getting together and brewing another batch of beer. This time we had decided on doing a Scottish Heavy 70/-. We realized that after putting the recipe together that though there were a lot of grains since it was a 20 gallon batch, there were not a lot of grains for a 20 gallon batch. We talked a bit and came to the conclusion that we could probably get away with doing a 30 gallon batch on his 20 gallon system. The theory being we would brew a bigger beer (higher true OG) and then dilute down to a smaller beer (our estimated finished OG). So we brewed a beer that was about 1.056 and diluted it down to 1.039. What that meant was each carboy would receive a 3.5 gallons of wort to 1.5 gallons of water ratio. It worked out almost perfect, we walked with about 28 (+/- 0.5) gallons.
The brew day itself had it's own snags, but nothing too major – I forgot to bring the hops and had to drive home to get them, and we stopped the wort collection from the mash-tun and "re-mashed-in" with more water to prevent a stuck mash about half way through. Really other than that, I think the day went really well and fluidly. Garrett drug stuff up from his basement and started the foundation/mash-in water by 9:30, I showed up around 10, I bet we had grains in the mash tun by 11, and we were oxygenating wort by 4 o'clock, all rapped up and clean before 5. So theoretically a 7.5 hour day, but realistically 5 hours of work. We also were outside all day, which wasn't horrible, but it was pretty crisp and a little windy, and it was starting to wear on me a little by the end of the day. We also got to try Garrett's root beer that he has on draft with our lunch. The root beer was really good, I think he said he made it from the Gnome kit, though he said it wasn't as strong as the first batch, I still thought it was great. Also, Donna whipped up yet another great meal – pulled pork with BBQ sandwiches accompanied by home-made German potato salad (bangin'!) and coleslaw. Come to think of it, we didn't have a single beer the whole brew day – go figure.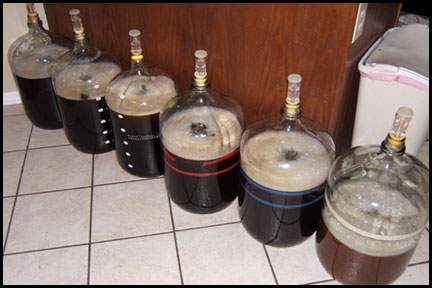 Later that evening I wound up staying at Garrett's to hang out with a bunch of people coming over. I finally got to try his British-ish Ale and his latest batch of Choking Sun Stout. I thought both were really good, with the British-ish Ale being a really sessionable easy drinking beer, and I tried plenty of it. There was all sorts of action going on; tons of peeps, mad food, crazy games, and crazier movies – Zombie-School-Girl-Musicals, Team America (fuck yeah!), and World Wide Clout (whatever that shit is…). All in all it was a very full fun day – can't wait until next time.