Wednesday, May 27th, 2009
So tonight was a brew night, and things went smashing.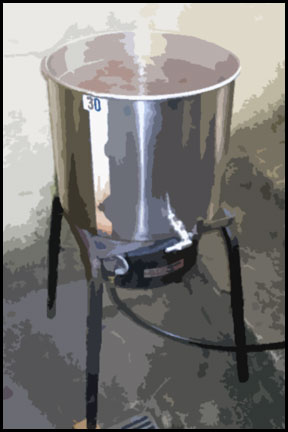 I planned to brew an Irish Red Ale tonight, which I did, but about half way through I questioned myself, is this the Red Card Ale 4? Maybe. It is a different recipe, though still a very traditional Irish Red, AND I did "give" the recipe of the Red Card to Mikey, so . . .
Anyway, I got out of work today at 3PM and rushed home anticipating a brew night, the yeast starter was ready and looking good, the grains were all measured out, and I think I had things trimmed and ready to go. By 4PM there was flame to kettle (always my official starting point) heating up the strike water and I was on my way. Things went fairly easy, I didn't over heat my strike water (for once), I hit my mash in and almost my mash out temperatures, the estimated original gravity was exactly as I expected, not too bad. Oh, except for that one thing, cooling the wort in the "summer time", which it isn't even yet. The ground water gets so warm that cooler the wort with an immersion chiller is almost pointless. This was only a five gallon batch and in one hour I could only get it down to 70 degrees, ugh. I know there are solutions, whirlpool immersion chillers, plate chillers, counter-flow chillers, and pre-chiller – BUT those are all investments and I have about ten other things (per usual) that I'd like to buy brewing equipment wise. I've discover the longer I brew the less I need things but the more I want things and the more expensive they become. Oh, and things rapped up by 9PM, so a nice tight 5 hour brew day/night.
So hopefully by the end of June we'll be sipping on a nice crispy Irish Red, until then!