Wednesday, September 30th, 2009
So Sunday (9.27.09) was the 4th Annual Dogfish Dash 5K/10K and Robert's and my 4th year participating in the 10K.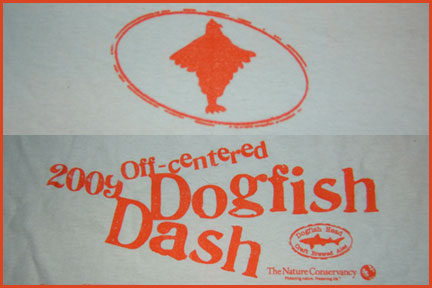 There were a few changes this year. First was the name (see shirt above), it has it listed as the Off-Centered Dogfish Dash, umm, ok, was that necessary, whatever :). And while I'm on the shirt, what's up with the chicken in the logo instead of the dogfish? Seriously we asked a couple people that worked there and they all were like "dunno". So, anyway, back to the real changes, first off it was in Milton this year versus Rehoboth the past three. Milton is an odd little town, but it was nice to take a run through it. Also, it was big, capped at 1,000 people and sold out, though supposedly about 25% of the people didn't show because of the rain. Also, the food was all cold food versus hot food and cold food at the pub, understandable though since there is no pub at the brewery. But the biggest change was the lack of flow of fine fine Dogfish Head beer. Basically they had one jockey-box set-up with four handles, they couldn't pour the beer fast enough plus it was pouring over 50% foam, ugh. It seriously took us over 20 minutes to get one beer, our ONLY beer from the jockey-box. They later brought out about 10 cases of Festina Peche which they blew through in like 30 minutes to help alleviate the jockey-box scenario. And later we found the tasting tent, which was way off to the side, where they were pouring about 6oz servings of Palo Santo, 90 Minute, Punkin, and Midas Touch – at least that tent had some flow. I know DFH is already aware of this "problem" and I guarantee it will be fixed for next year.
BUT, besides the changes, which sounds like bitching, it was a good time! We got lucky with the rain. I woke up about 5AM (about and hour and a half before I had to wake up) to the sound of rain pouring on the roof of my dad's place. When we got to the brewery about 7:30AM it was still drizzling. By 8AM for the start it had stopped. By the time we wrapped up our 10K about 9AM it still wasn't raining. But within, say 15 minutes, it rained for over the next hour as we all tried to enjoy beer, yogurt, and cereal. Oh, and no coffee, WTF!?
And, in case anyone was wondering, both Robert and I were running about 80%+. If I would have had 2 Advil, another 30 minutes, and a large coffee before the run I would have been 100% easy. Much better than last year, where we both were like 10-20%, yuck. So, kind of regardless, we'll be back again next year! Thanks Dogfish Head, thanks Matt.