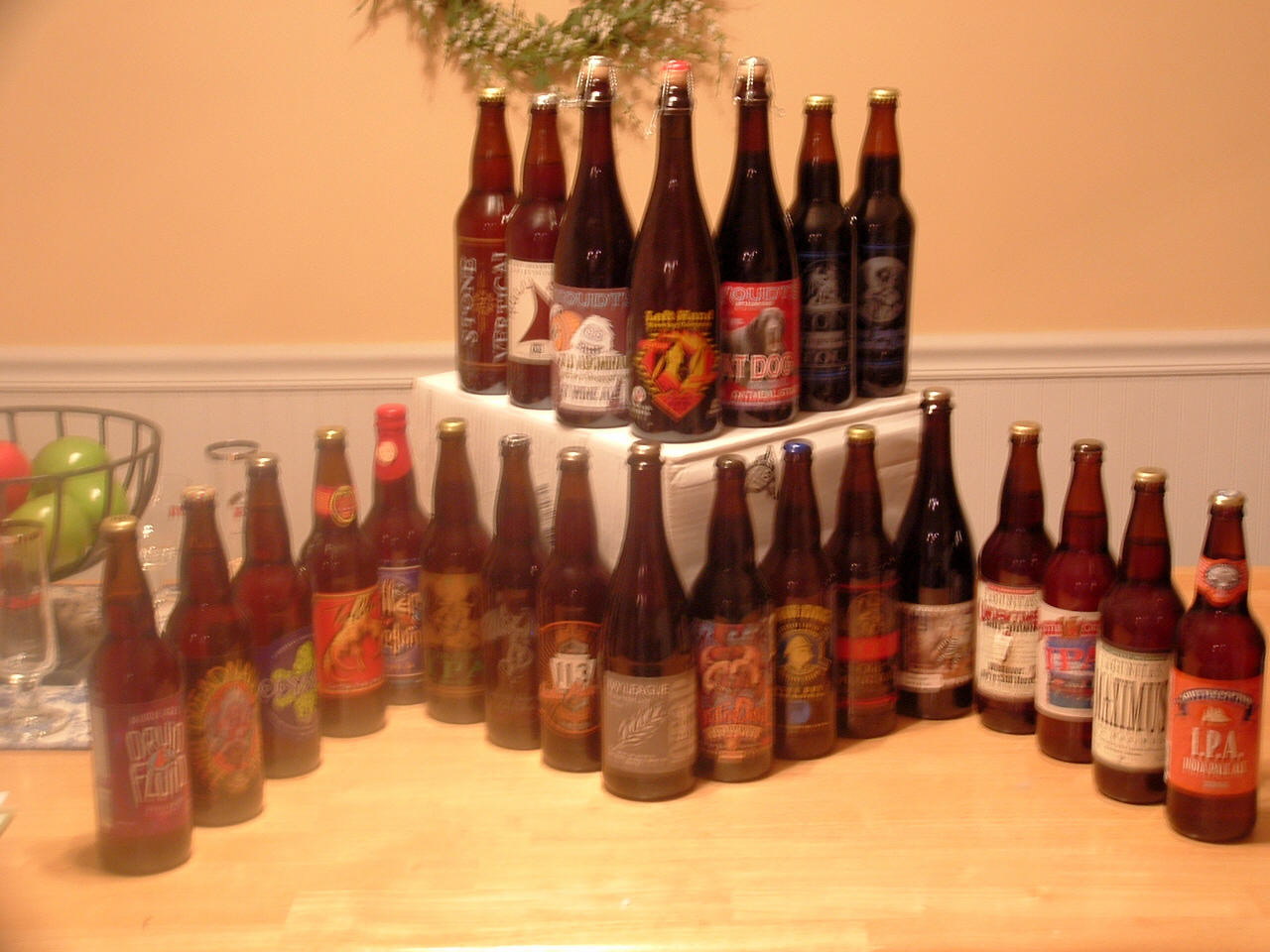 Recently I signed up for another BIF (Beer It Forward) on Beer Advocate. This BIF was call Double Trouble BIF. The basic premise was that each recipient had to be a pair and send two of each beer, so essentially two identical BIFs happening at once. I thought this was more interesting then your typical BIF so I signed up with Guy (ImStillTheGman). I believe there were 12 pairs involved and we received 10th or so in line.
Well, unlike most BIFs this one has really been snow-balling, with each pair of BIFers really trying to out do whomever was before them, or at the very least impress the pants off the next recipient. Anyway, by the time it got to Guy and I this thing was crazy out of control, both the beers we were going to send and the beers we were about to receive.
The guy we received from, BeerBeing, has such a good trading reputation that he was actually a single man pair, make sense? Anyway, he lives in near by PA, so he decided to drive our beer down instead of shipping it, meaning both that we received it faster and he saved money in shipping which he passed along to us in beer. So with no further ado, here is what we each received, one bottle a piece: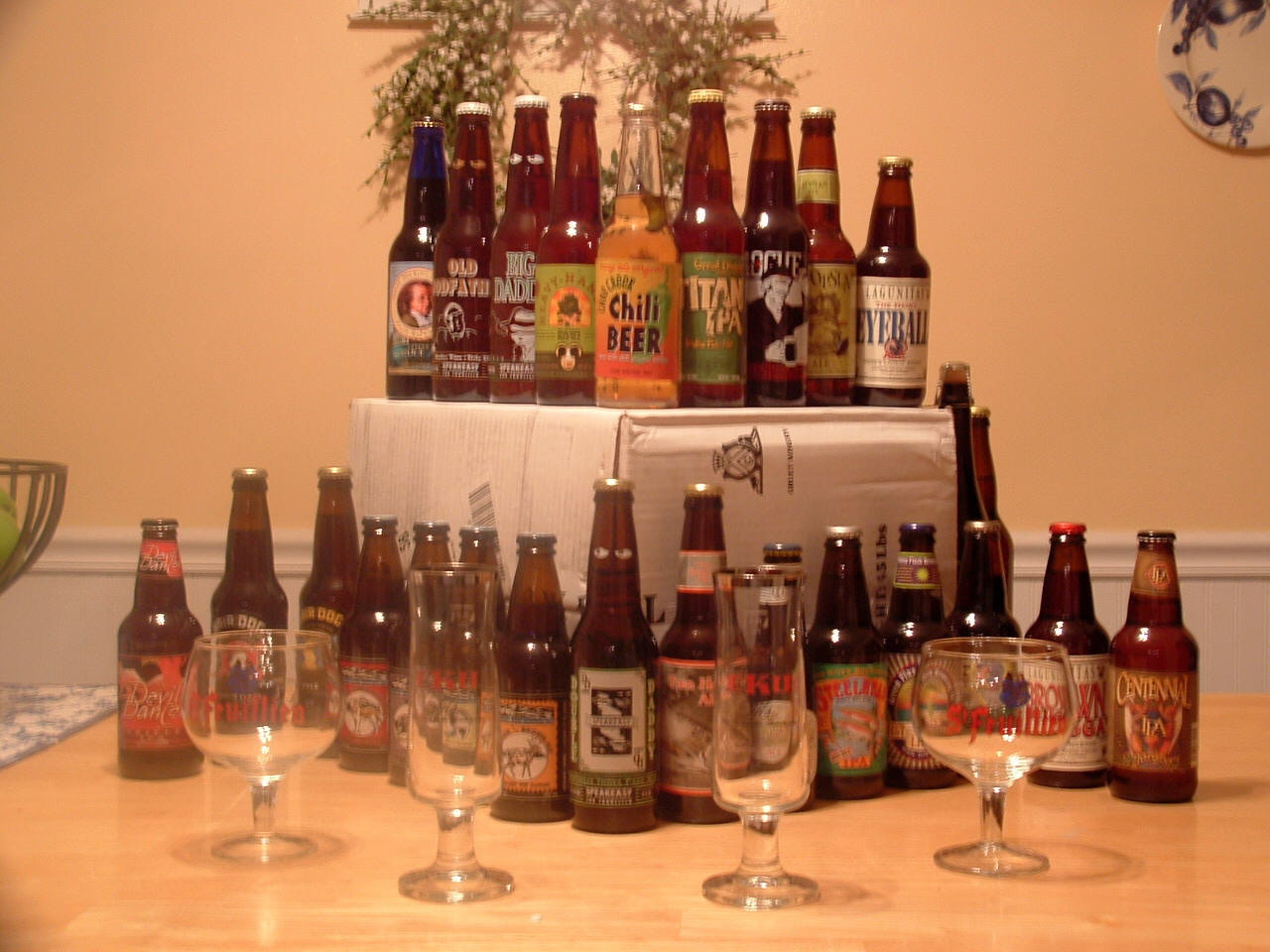 7oz bottle (x2)
Anchor Old Foghorn 2004 vintage

12oz bottles (x2)
Barley Creek Brewing Co. Rescue IPA
Barley Creek Brewing Co. Angler Black Lager
Barley Creek Brewing Co. Navigator Golden Ale
Barley Creek Brewing Co. Antler Brown Ale
Heavyweight Old Salty 2004 vintage
Bell's Two Hearted Ale
Bell's HopSlam
Great Divide Titan IPA
Rogue Old Crustacean 2003 vintage
Green Flash West Coast IPA
Two Brother's Heavy Handed IPA
Mad River Brewing Co. Steelhead DIPA
Speakeasy Old Godfather
Speakeasy Big Daddy
Speakeasy Double Daddy
Yards Poor Richards Tavern Spruce Ale
Founders Centennial IPA
Founders Devil Dancer
Hair of the Dog Fred 2004 vintage
Hair of the Dog Doggie Claws 2004 vintage
Lagunitas Brown Shugga'
Lagunitas Hairy Eyeball
Crazy Ed's Cave Creek Chili beer

22oz bottles (x2)
Otter Creek 15th Anniversary IPA
Three Floyds Dreadnaught
Sly Fox Odyssey
Sly Fox 113 IPA
Southampton IPA
Boulder Killer Penguin
Lagunitas Undercover Shut Down Ale
Lagunitas Maximus
Mendocino Talon 2004 vintage
Middle Ages Druid Fluid
Stone 10th Anniversary
Stone Ruination IPA

and there's more…Singles
22oz bottles (x1)
Hair of the Dog Blue Dot DIPA
Stone RIS 2005 & 2006 vintages
Stone Old Guardian 2006
Stone Vert. Epic 04.04.04
Full Sail Old Boardhead 2005 vintage
Midnight Sun Arctic Devil 2005 vintage

750ml bottles (x1)
Heavyweight Ivy League Pilsner
Heavyweight Old Salty Barrel-aged 2005 vintage
Left Hand Twin Sisters
Stoudt's Fat Dog Barrel-aged
Stoudt's Old Abominable Barrel-aged
Kulmbacher EKU Pils glass
St. Feuillien glass
This was a failed attempt at me trying to start a BIF off Beer Advocate, to say the least, it didn't work – at all. Oh well, I guess that's what places like Beer Advocate are for.