This past weekend I had my first trip up to Boston in over 10 years. The last time I was there was for the Phish New Year's Eve run of 1996 – I have fond memories of wearing Birkenstock sandals in the middle of a blizzard, staying at a relative of a friend with way too many people in such a small place. Ahhh, what a great time.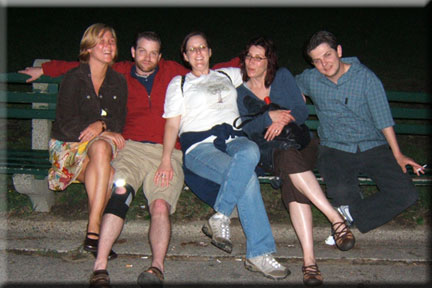 Fortunately for me, I had a great time this time too, and I actually got to see some of the city this time. This year I went up with the five lovely people above: Jody, Dave, Karen, Heather, and Paul. From what I gather, JDH&P have gone up to Boston annually for the past couple years, I think it was all originally based around going to a Red Sox game at Fenway Stadium. So, this year Karen & I were asked to join the crew on their annual pilgrimage to Boston. We made reservations at the exclusive Omni Parker House right in the middle of downtown. The OPH is a historic building and the originator of the Boston Cream Pie (my favorite). The hotel was very nice, but because of its age the rooms were smaller than I would have preferred. Because of the location of the hotel using the public transportation or walking wherever we went was a snap.
We actually left on Thursday night so we could get the majority of the driving done before the weekend and not waste all of our time driving. Since there were six of us and we wanted to all ride in one vehicle we decided to rent a Toyota Sienna mini-van for the weekend. I must say, the mini-van was dope. We all fit comfortably, it drove like a dream, it had a DVD player (which we never used), and got great gas mileage. I totally think it was a smart thing to do, plus we got hooked up through my buddy Todd because he works at the dealership. So, essentially Thursday was boring driving. We stopped about 30 minutes from Boston in Framingham, I believe.
The next morning we decided to head into Cambridge and get some breakfast and kill some time before going to the hotel, we weren't sure if we would be able to get an early check in or not. Found a nice little diner and chilled out. After the diner I suggested we look for the Cambridge Brewing Company and grab a beer. We got shitty directions from our waitress and began looking for the CBC. Well, after about 45 minutes we still couldn't find it, we decided it was time to head into Boston and try to find the hotel. When we did get to the hotel we were able to check-in early and got adjoining rooms. For whatever reason I was kind of out of it by this point and kind of continued to be for the rest of the day.
After checking in we were off again. This time we went for a walk to the open air market area and then to a neat Irish bar called the Black Rose. We only stayed for one beer and I guess I should have gotten a Guinness, but instead I drank another Boston favorite Harpoon. After the Black Rose we walked into the Little Italy area and found a few nice spots to stop and grab another beer and some excellent espresso. After heading back to the hotel and regrouping a little we headed out for dinner at the 21st Amendment, kind of a little hole in the wall bar with maybe 20 seats right on the outskirts of downtown. The beer selection kind-of sucked but the food was better-than-average bar food. After dinner we went for a walk through the 'rich' area of town and headed back to the hotel to hang out and have a few beers. While we were chilling, the decision was made to rent and watch Borat around midnight. I must say, it was a lot funnier than I was expecting, plus lead to many quotes for the rest of trip, 'It's a nice!'
Saturday was the day I was looking forward to. We already had dinner reservations at a nice restaurant and essentially the rest of the day was wide open. Dave & Paul headed off to the Red Sox game at about the same time that the girls and I headed off to Harpoon Brewery. We knew that they did free tours on Saturday and wanted to try and get to the early one. The ride out to Harpoon wasn't too complicated though we almost missed a transition from the train to the bus. The "tour" was pretty cool. Basically they have a little shop where they sell merchandise and beer with a bar set-up in the middle. Pretty much they had like six or seven beers on tap and there tour really consisted of a tasting of all the beers. We also got to go out on the brew platform, but in all honesty it isn't very exciting. I did wind up picking up four beers from their 100 Barrel Series, so I was stoked about that. I got the Peche, the Refsvindinge Private Stock, the encore series Barleywine, and the encore series of the Smoked Porter.
After Harpoon it was back to the hotel to drop off beers and then to decided to where next. Originally we had planned on going to Sam Adams Brewery and getting a tour and tasting there, but we decided instead to try and find the Publick House
and grab a couple beers there instead. It took us a good hour to pull our shit together and get an address, phone number, and directions, and then another good forty-five minutes or so to get there. By this point it was starting to get later than we wanted it to be and we still had not eaten lunch plus had out fancy dinner in a few hours that night. Regardless we all got food and beers. I must say I really liked this place. The closest comparison around here would be Monk's Cafe in Philadelphia but with more room and less snotty attitude, but with just as great a beer selection. This is the kind of place that would be a do-not-miss kind of place if anyone ever asked me about Boston. I had a nice calamari salad and a glass of St. Bernardus 12 followed by a Founder's Imperial Stout for dessert. Everything was cool and eclectic, I really enjoyed that break in the day.
After the Publick House it was back to the hotel to chill out and clean up before dinner. The restaurant we made reservations at, Grille 23, is a Boston steak house destination for sure. It was a very nice restaurant where they are listed as being in the 10 best steaks in the country, and have hand selected beef from a private farm, sounds tasty to me. We all got dressed-up pretty and grabbed a cab out to the location. Originally I was a little off put by the volume (noise) of the people inside the restaurant, but that was quickly evaporated as we were lead upstairs to a private little nook that made the place feel
just right. We enjoyed a bottle of Pinot Noir and a bottle of Cabernet, I don't remember what brand they were, but I do remember that I was totally blown away by the Cabernet, great wine. Along with the wine I started with a Nantucket Clam Chowder, which was a slightly thinner spicier clam chowder in comparison to a Boston Clam Chowda. Most of the table enjoyed the traditional Wedge Salad, but Grille 23 threw their twist on it by serving the lettuce wedge with an 8th of a small wheel of blue cheese and a large fresh piece of bacon versus the standard blue cheese crumble and chopped bacon – it looked delicious. For my main dish I chose the 10oz Fillet Mignon cooked medium-rare and it was perfect. And in all honesty after looking at all the other meals, mine looked the best, simple but perfect. For dessert the table chose to split a fresh strawberry ice cream cake, it tasted very much like a frozen strawberry shortcake with fresh strawberries, delicious also. After dinner we some how wound up walking back to the hotel, I guess it was closer than I initially realized. That night we just chilled back at the hotel again, which was about all I could have handled.
By the time Sunday morning came around most everyone was ready to be home. We did the slow get ready to go and hit the pike. We decided to wait until we got on the road to stop for breakfast which quickly turned into two hours later and stopping for lunch. The car ride home was mostly unproductive, but we did manage to miss almost all the traffic which was sweet. After getting home and dropping everyone off, we still needed to head to the car rental place and drop off the car. All-in-all it was quite a wearing car ride home, but so totally worth the trip. I hope the six of us get to do something like this again sometime soon.